Alligator II: The Mutation
(1990)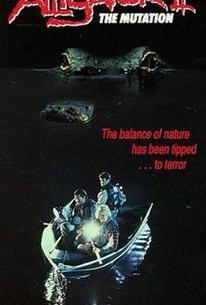 AUDIENCE SCORE
Critic Consensus: No consensus yet.
Alligator II: The Mutation Photos
Movie Info
In this low-budget screamer, obviously inspired by its predecessor Alligator (they're not from the same movie-makers), a monster-sized alligator threatens the "livelihood" of lakefront dwellers. The giant gator got that way because an unscrupulous land developer (Steve Railsback) had been dumping chemicals into sewage lines feeding a resort lake which apparently created the mutant alligator with the people-sized appetite. The local cop David Hodges (Joseph Bologna) along with his scientist-wife Christine (Dee Wallace Stone) set out to corral the critter, which shows up at the local amusement park, looking for more than corn dogs.
Critic Reviews for Alligator II: The Mutation
Audience Reviews for Alligator II: The Mutation
½
Competently made, but it lacks an ingredient the original has in spades. Fun (and John Sayles). It also has a HORRIBLE Casio Synth score. *shudder*
Ken Stachnik
Super Reviewer
Hmm if any one is not familiar with my language let me same this movie up in a few lot of words. 死ねばくそひどいクソ映画 (Shit awful fucking film that should die) Eirin rating-Unrated [IMG]http://i54.tinypic.com/23tif5x.jpg[/IMG] This movie is a major pain in the ass from start to finish, I liked the first film to me that's 50-60% material, but its fun to watch because its jaws on land but an alligator. And it has some decent effects and a somewhat okay story that borrows heavily from jaws. And then out of nowhere they made a 2nd movie WTF???? It was just terrible I don't see why everyone doesn't give it a zero. A giant alligator runs riot in a small town with a lake connected to a sewer/drainage system. Typical plot; nobody believes the sightings until lots of people have been killed. [IMG]http://i52.tinypic.com/69ngpf.jpg[/IMG] There that's the story and that's it. 0% for story: Its annoying and stupid. 0% for acting: There laughing while there fucking screaming. 0% for special effects: Some of the worst I have ever seen AND wait I know that's scene, IT was from the first movie. 0% for characters: Need to write anything else??? 0% for everything else: This movie is just terrible. Stay away from this movie and if you can ban movies on Netflix (If you can) Ban this horrid demon. Keiko's score 0%
½
What a title, just screams 'must see' :) this is classy hehe even more cheesey and tacky than the first but the first had the excuse of being an old film, this was made eleven years later with the possibility of better effects. As you can guess those advantages werent used haha there are maybe one or two decent looking gator shots but most of the time you can almost see the crew wheeling the rubber gator along lol Again you have to compare this to the 'Jaws' franchise (along with everything else eg. Piranha etc..), the attack sequences and even the plot this time are very similar to Jaws and Jaws 3, no one ever believes the good guy hehe Im actually surprised they managed acouple of decent actors to take part, Joseph Bologna and Brock Peters both dash around pretending to be serious and they do add atouch of much needed realism but not too much ;) Its totally cliched, cheap and predictable and much worse than the original, yet its still not too bad haha how does one miss a slow moving alligator with a bazooka!? bahahaha brilliant!
Phil Hubbs
Super Reviewer
Alligator II: The Mutation Quotes
There are no approved quotes yet for this movie.