Amber Alert
(2012)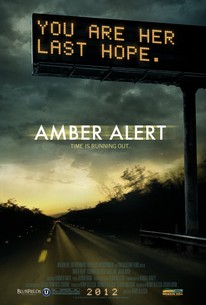 AUDIENCE SCORE
Critic Consensus: No consensus yet.
Movie Info
While filming their audition video for a popular reality television show, best friends Nate and Samantha notice several active AMBER Alert signs. To their surprise, they recognize the car traveling in front of them as the vehicle described on the AMBER Alert. Sam and Nate decide to follow the car, but with police slow to respond, their pursuit quickly turns into a high-stakes game of cat and mouse with a murderous child rapist. -- (C) Official Site
Critic Reviews for Amber Alert
Audience Reviews for Amber Alert
Ah, so many found footage movies, so little time. A genre that a lot of people hate for no real reason whatsoever. Its positives are the fact that it has allowed aspiring filmmakers to make a film on the cheap. The negatives are the fact that there are a lot of lazy filmmakers who don't use the style in a creative or clever fashion. I say this a lot, and I'll continue to say it, but focus on the content of the movie and not whether or not the film has a visual style that you find appealing. I'm not saying that the visual style should be exempt from criticism, clearly, but just focusing on that makes it hard to take those reviews seriously. Take this movie, as an example, while it's not without its faults, it's a surprisingly solid little found footage flick. One of the things I liked, of many, is the fact that the flick focuses on something that's very real. I don't think it's something that most of us will ever live through, but it's a believable enough concept. A group of friends, who are making an audition tape for this reality show, go on a drive that obviously turns into a drive that will change their lives forever. While driving down the highway, they see an Amber Alert on one of the billboards describing a car along with its license plate number. Nate and Samantha then notice a car fitting the description, right down to the license plate. They then decide to follow the car, more at Sam's insistence since Nate is a little apprehensive about following the car, fearing that it might be a misunderstanding. They call and notify the cops, naturally, while still following the guy. This is where the movie lacks some 'realism'. In a lot of these case, the authorities take this very seriously and they're on top of that shit almost immediately. Either that or they're on the phone with the people following the car. The cops do none of that in this movie. It's, essentially, all up to Nate and Sam to save this little girl. I will say that if you hate characters yelling at each other, as Nate and Sam do here, then you will absolutely hate this movie. And I get that complaint, their constant bickering can really be exasperating at times. It gets on your nerves fairly quickly. But, on the flip side of that, you can argue that it's justified in the situation that Nate, Sam and Caleb (Sam's teen brother, the cameraman) find themselves in. They stand to be the last chance that this little girl has, if it turns out that she was indeed kidnapped by a pedophile. A lot of the arguing gets a little redundant, as how many times can you make the same point of doing the right thing and being this girl's last chance of survival. Or what would Nate do if it was Sam or Caleb in that same situation. They say this over and over and over. And this isn't really that long of a movie. I still found it interesting as Sam gets to see layers of Nate that she never thought she'd see. Like, for example, Nate saying that he doesn't care what happens to the little girl, as he doesn't want them to get drawn in deeper. The movie does a great job, and I do mean great, at keeping things supremely tense. There's very real consequences at play here if Sam and Nate's help backfires. Or if they lose the car they're following. The movie being as short as it was helps them to keep things movie. They never stick with one scene longer than they absolutely need to. Of course it comes out that the guy was, indeed, a pedophile (this is after they talked to him and he seemed like a normal guy and they went their separate ways). They find their way to his house where they attempt to rescue this girl. Things don't turn out perfectly for Sam and Nate (in the understatement of the year), but they do accomplish what they set out to do. I thought Summer Bellessa and Chris Hill, Sam and Nate respectively, were actually really good in their roles. One of the things they nail down pat is the fact that they feel like they've been friends for a long time. So it's believable when Nate refuses to listen to Sam's pleading, he cares for her and her brothers and he doesn't wanna put them in any more danger than he probably already has. I know they didn't have a gigantic budget, but films like this are better with unknown actors. It helps with immersion and suspension of disbelief. And I'm not saying that this is the most immersive found footage film out there, but the actors' authenticity certainly helped get its point across. Yes, this isn't the smartest film out there. And no, the characters aren't always the most intelligent of people. Taking that into consideration, however, I found this to be quite a solid experience. It's not gonna be an easy movie to like for some, but I enjoyed it nonetheless. And that's what matters.
Jesse Ortega
Super Reviewer
Amber Alert Quotes
There are no approved quotes yet for this movie.