The Americanization of Emily
(1964)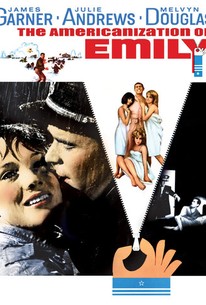 The Americanization of Emily Videos
The Americanization of Emily Photos
Movie Info
The lively but somehow slightly distasteful The Americanization of Emily stars James Garner as a WWII naval officer who happens to be a craven coward. While his comrades sail off to their deaths, Garner makes himself scarce, generally hiding out in the London flat of his lothario navy buddy James Coburn. Garner falls in love with virtuous war widow Julie Andrews (the "Emily" of the title), but she can't abide his yellow streak. Meanwhile, crack-brained admiral Melvyn Douglas decides that he needs a hero--the first man to die on Omaha Beach during the D-Day Invasion. Coburn is at first elected for this sacrifice, but it is the quivering Garner who ends up hitting the beach. He survives to become a hero in spite of himself, winning Andrews in the process. Paddy Chayefsky's script, based on the novel by William Bradford Huie, attempts to extract humor out of the horrors of war by using broad, vulgar comedy instead of the light satirical touch that would seem to be called for. Americanization of Emily was Julie Andrews' second film; it should have led to a steady stream of adult-oriented roles, but the box-office clout of Mary Poppins and The Sound of Music consigned her to "wholesome family entertainment". ~ Hal Erickson, Rovi
Critic Reviews for The Americanization of Emily
Audience Reviews for The Americanization of Emily
Despite the title the film really has little to do with the love story or Julie Andrew's Emily. It's mostly James Garner's film as his cowardly aid does everything in his power to avoid seeing combat. The broad topic of this film seems more like the sort of thing you'd expect from the '60s or '70s counter-culture movement as we're expected to sympathize with the idea that war is immensely stupid and celebrating heroes a travesty. It would have fitted better if it had been in Korea or Vietnam and could easily have stood alongside MASH or Good Morning Vietnam. As it stands it's their older, slightly frizzier big brother.
Stuart McCunn
Interesting and cynical movie about war. Reminds me a little of Billy Wilder, specifically the characters of Stalag 17. Good script.
Matt Heiser
½
Great politics for its time. This is a real ass movie, buncha truth bombs about war, politics, glory and sentimentality. The only downside is that Charlie's the only real 3D character in the film. Even Emily is pretty flat... Though she gets better by the end.
Jenna Ipcar
The Americanization of Emily Quotes
There are no approved quotes yet for this movie.
Discussion Forum
Discuss The Americanization of Emily on our Movie forum!