And the Ship Sails On
(1984)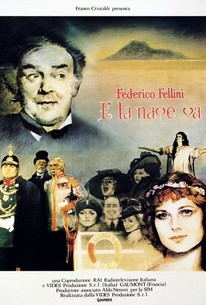 Movie Info
This evocative look at a 1914 ocean voyage to scatter the ashes of a world-famous opera singer (Janet Suzman) is by turns charming, funny, and bizarre. Among the ship's passengers are aristocrats, politicians, singers, and a rhinoceros. Their episodic interactions form the core of the film, with complications (including a group of refugee Serbs boarding the vessel) carefully orchestrated by screenwriters Federico Fellini and Tonino Guerra to highlight the decay of European society prior to World War I. The ship sails on an artificial ocean against an artificial sky, crafted by art director Dante Ferretti in the studios of Cinecitta, with a result that is both disconcerting and oddly comforting.
Critic Reviews for And the Ship Sails On
Audience Reviews for And the Ship Sails On
Federico Fellini's 1984 film "And the Ship Sails On" involves the story of famous individuals attending a funeral aboard a luxury ship headed to the island of Erimo to spread the ashes of Italian opera singer Edmea Tetua. It takes place in 1914 right before the war began. The story is told to us by the journalist covering the funeral, Orlando (Freddie Jones), he talks directly to the camera and tells the audience everything about the people attending, even juicy little gossip. The cast is a colorful bunch including a Russian using his voice to hypnotize a chicken, a singer transforming his room into a shrine to Edmea, a man who claims he is a medium and invites the guests to his cabin to speak to the dead Edmea and a fat Prussian duke with a sister who sees colors when people sing or speak. The third day involves the arrival of Serbian when the ship rescues them. After the arrival of the Serbians who sleep on the decks in large numbers, the ship starts to look like an immigrant ship headed to America with a first class section and dining hall they are not allowed to enter. After dancing and music that involved the guests dancing along with the Serbians, an Austrian ship demands that the Serbians be turned over. But the Prussian Duke secures the ship's passage to the island to perform their rites. The characters make this a fun movie, but it's Fellini's direction and the cinematography from Giusseppe Rotunno that make this film work. The ending is absolute chaos, though.
Joseph Boomhower
Super Reviewer
½
With a gorgeous cinematography and production design, this is probably the most stunning Fellini film while also a work that offers a smart social commentary - until it goes insane in the last fifteen minutes, losing any direction and evidencing the artificiality of the story as a film.
Carlos Magalhães
Super Reviewer
½
A very interesting film but very uneven, the opening is fantastic though...
Ken Stachnik
Super Reviewer
And the Ship Sails On Quotes
There are no approved quotes yet for this movie.