Long khong (Art of the Devil 2)
(2005)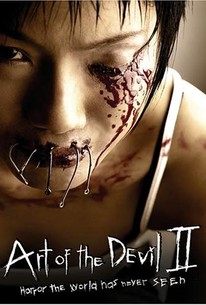 AUDIENCE SCORE
Critic Consensus: No consensus yet.
Long khong (Art of the Devil 2) Photos
Movie Info
A reunion of seven souls bound together by a malevolent past sets into motion a bloody tale of revenge and murder in this shocking sequel to director Tanit Jitnukul's gruesome 2004 occult shocker. As the horrors of the past move ominously towards the present with the single minded goal of inflicting suffering on those who set the terrifying events into motion, seven lives bound together by sin will be slowly and painfully rended with no chance for escape and no possibility for redemption. ~ Jason Buchanan, Rovi
Critic Reviews for Long khong (Art of the Devil 2)
Audience Reviews for Long khong (Art of the Devil 2)
½
"Long Khong(Art of the Devil 2)" is a creepy, gruesome and gore tale of witchcraft and insanity. The story is really scary with good twist, and has some nasty and cruel scenes. The screenplay is very well tight, with good lines. The direction is very precise, the special effects goes from good to decent, and the cast delivered performances. In my opinion the BEST of the trilogy!
½
This is standard Asian shock horror (or Asian Extreme as the dsitributor would like you to label this genre of new ultra-gory ultra-absurd, yet incredibly realistic towards the portrayal of absurd violence, movies).
I liked the first 'Art of the Devil'; the story/script, as is typical for Asian shock imports, is much more amped, with more twists, and certainly more characters than the first movie, and certainly more than an American audience would get in a ported release. Instead of one twist in your typical shite American scareflick, you get about five. Instead of one character with a dark past, the majority of main characters have bloody and nasty secrets. And I say "gimme more, more, more" because that's the way this genre works. Americans screw up imports of similar titles to this by simplifying the plot (less writers to pay), scaling down the amount of characters (less actors to pay), copying the gore scenes essentially cut for cut, but then KEEP all the plot holes and continuity errors and DROP the consistent pacing, which in a "gorefest", these plot/script flaws are only excusable when they are done to the max as in Asian horror. So mindfick me all you want, just do it as much as you can, like this movie does, or else the movie will suck. The only annoying thing in this movie is that it is dubbed instead of subbed, but I'd rather that over a full-blown American ported version anyway.
I love the aesthetic qualities given to the production design of the blood, ghosts, and, in this movie, featured amphibians and aquatic life. I don't know why, but Asian directors just have a better grasp of what makes a f-ed up scenario look as f-ed as it actually is; meaning I think the kills are amplified and beyond the reach of your typical Dimension or Lions Gate trash. Even compared to the elaborate, and my only favorite of the series, Saw 3, the inventive diabolical behavior and mutilation is effectively executed in this movie to scare or stun me, as oppposed to me laughing at it (I'm talking about Eli Roth And Darren Lyn Bousman in particular here).
I've rated this the same as its predecessor, but I do think it is better and you don't have to see the first to understand this one. The premise is: people put curses on each other and no characters from the two movies cross over so feel free to skip the first, as it is slower paced. While the first really pays off all around, in the non-violent and grotesque scenes, this movie only shines for the grotesque, which is more abundant and equally creative, though if you like this, you must see the first, at least fast forwarding to all the kills, particularly the "snails" murder which is stunningly shot. In this one, the top murder is...tied between the "hooks" and "newts" scene. It's really badass. You gotta see this, horror fans. "So Fucked Up" highlight: finding out what's in the fish soup
_kelly .King
Super Reviewer
Cool movie. Something a little different than your typical stringy haired undead chick asian horror. Interesting story and a nice surprise ending.
Steven Vincent Gee
Super Reviewer
Long khong (Art of the Devil 2) Quotes
There are no approved quotes yet for this movie.