Artists and Models
(1955)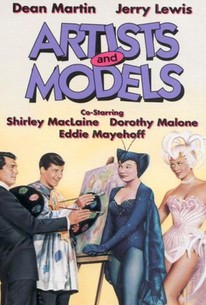 Artists and Models Videos
Artists and Models Photos
Movie Info
Bearing very little relation to the 1937 Paramount musical of the same name, Artists and Models is a lavish, girl-filled vehicle for the popular team of Dean Martin and Jerry Lewis. Martin plays Rick Todd, a comic-book artist who is under fire from his publisher (Eddie Mayehoff), who complains that Rick's work isn't gory enough. Lewis plays Eugene Fullstack, Rick's roommate, who while asleep dreams up elaborate comic-book plots and garishly costumed superheroes. Eugene's nightmares help Rick become a success; meanwhile, our two heroes romance their luscious neighbors, artist Dorothy Malone and rambunctious model Shirley MacLaine (who during one song wrestles Eugene to the floor and sits on his chest!) Eugene's overworked imagination somehow attracts the attention of a group of Russian spies, who attempt to abduct Eugene during the annual Artists and Models Ball. Director Frank Tashlin uses Artists and Models as an excuse for some of the wildest sight-gags seen in a mid-1950s film. At one point, the director contrives to stuff a gag in Shirley MacLaine's mouth. Tashlin also exhibits his ongoing fascination with female breasts and legs by giving ample screen time to the natural attributes of co-stars Anita Ekberg and Eva Gabor. One of the best of the Martin/Lewis efforts, Artists and Models suffers only from being about 20 minutes too long. ~ Hal Erickson, Rovi
Rating:
NR
Genre:
Directed By:
Written By:
In Theaters:
On DVD:
Runtime:
Studio:
Paramount Pictures
Critic Reviews for Artists and Models
Audience Reviews for Artists and Models
½
Wow, these guys are. . .not very funny. Occasionally a joke lands where it should, the musical numbers are OK, the basic plot outline itself is pretty good in many ways. But man, the flapping dickey bit?
Andy Cramer
Classic and hilarious Martin and Lewis film. Jerry Lewis is hysterical with his dreams and costume and even trying to go upstairs!
Tim Meyers
½
Martin and Lewis are both artists in Greenwich village and they're mostly unemployed. Lewis's character is an avid fan of comic books that by the mid 1950's were at the height of their popularity but also catching a fair amount of criticism for their effects on juveniles. But its the comic book industry that gives our two heroes a shot a success and romance. The film begins with a gag showcasing the duo's comedic abilities and landing them unemployed again followed by a rather depressing musical number 'If you pretend' proclaiming that in times of hardship its easier to drift into fantasy. This dynamic sets the tone for the rest of the film, Peter Bogdonavich said Tashlin directed the only two solid Martin and Lewis films because of elements like that dynamic. That Tashlin being one of the most inventive comedians of he seems to be able to still add an element of social commentary amongst over the top cartoon humor. We see this in the film particularly in the references to the cold war and in a sadistic child who's mind has been corrupted by comic books tosses a letter opener like a throwing knife. The film is interesting in how well it holds, especially in today's cinema dominated by comic book movies. The irony though is that Tashlin wrote comic strips himself and perhaps only someone with that insight could bring the film to life being a film that invokes the style of comics in form but satirizes it in content. This is best demonstrated in the final act where the film becomes an over the top espionge thriller. What make the film so ambitious and so successful is how thorough the film eaxmines the industry; elements of the film conatin biting criticsm towards them and their rise in violence, even Jerry Lewis' character ends up speaking out against and we see Dorthy Malone's work is looked down upon for its lack of violence. However at the same time its a source of succes for Martin and Lewis which they celebrate with treffic a musical number and by the end of the film by the time the communists get involved the film is invoking those very elements.
Gregory Suarez
Artists and Models Quotes
There are no approved quotes yet for this movie.
Discussion Forum
Discuss Artists and Models on our Movie forum!