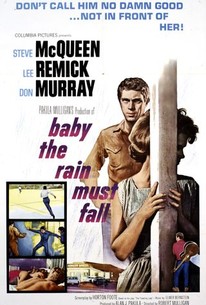 Baby, the Rain Must Fall
1965, Drama, 1h 40m
5 Reviews
250+ Ratings
Where to watch
Rent/buy
Rent/buy
Buy
Rate And Review
Baby, the Rain Must Fall Photos
Movie Info
Henry Thomas (Steve McQueen), a singer and guitarist in a rock band, is on parole for a violent crime. Henry's wife, Georgette (Lee Remick), and daughter, Margaret Rose (Kimberly Block), travel to Texas to be with him as he attempts to repair his relationships and put his life back together. Henry's overbearing foster mother, Kate Dawson, doesn't approve of Henry's musical aspirations and uses the terms of his parole to force him to comply with her wishes.
Audience Reviews for Baby, the Rain Must Fall
Aided by crisp black and white cinematography, "Baby the Rain Must Fall" starts with Georgette(Lee Remick) traveling to Columbus, Tx on a Trailways bus with her infant daughter Margaret Rose(Kimberly Block) to join up with her husband Henry(Steve McQueen), a musician recently released from jail. At first, I was afraid she might be exaggerating their relationship, but thankfully that's not the case. It is just that he was not expecting her as she left before his letter could reach her.(Lack of communication is a big theme here.) He dreams of performing in San Antonio, Nashville and Los Angeles, and Georgette agrees to work at a local drive-in to facilitate his career. Those longshot dreams probably have more to do with the reality of him escaping the constant intervention into his life, not without reason in a small town, with a hint of gothic thrown in for good measure that includes a convenient local cemetery which could also stand in for the past. Now instead of Georgette being his anchor, he is her anchor. That central relationship is given full form by the superb chemistry between McQueen(never better) and Remick, as the movie answers the question emphatically as to whether or not Henry is mature enough for such responsibilities in an excellent climactic scene.

A bit of cinema verite, American style, in this bit of a psych study on a orphan boy singer dreaming of fame and the woman who loves him. Its understated, almost documentary style of storytelling will be too slow for some and the end is telegraphed in every scene leading up to it, but the performances do deliver some zing. McQueen's singing scenes are overdubbed but he's great acting like a rising rock and roll wannabe.

Beautiful performances from Steve McQueen and especially Lee Remick highlight this rather sad rambling film of the type Hollywood doesn't make anymore. A small personal drama that explores the lives of regular people just struggling to make a place for themselves in the world. Nothing blows up, it's all about emotions here. Something that you'd find either on the indie circuit on maybe on cable today certainly not in major markets and hardly with stars of this magnitude.

There's plenty of potential beauty and pain in this story, but Horton Foote's screenplay doesn't bring it all out. The basis of the character study is very interesting, but the execution of it feels a little bit undernurtured. Despite the use of some shabby lip-synching to cover up the leading man's inability to carry a tune, I still think he's perfect for the role. Steve McQueen had a uniquely tragic presence and some considerable acting talent, but it never shines through in this picture like it should. This is a flawed but overall good film that McQueen fans in particular should look into.
See Details