Baghead
(2008)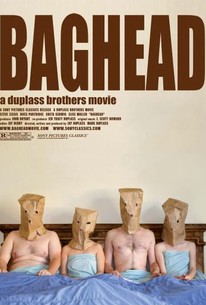 TOMATOMETER
AUDIENCE SCORE
Critic Consensus: Pitting actors against murderers in a self-aware struggle for stardom, Baghead successfully skates the borders of horror and comedy.
Movie Info
While the Duplass Brothers were shooting their last feature film "The Puffy Chair," a crew member raised the question "what's the scariest thing you can think of?" Someone immediately said "a guy with a bag on his head staring into your window." Some agreed, but some thought it was downright ridiculous and, if anything, funny (but definitely not scary). Thus, "Baghead" was born, an attempt to take the absurdly low-concept idea of a "guy with a bag on his head" and make a funny, truthful, endearing film that, maybe, just maybe, was a little bit scary, too.
People Who Like this movie also like
Critic Reviews for Baghead
Audience Reviews for Baghead
½
Decent low budget horror comedy that is pretty decent. The idea behind this film is pretty interesting, and it is different. Although it is a decent flick, it still has plenty of flaws, and the end result is a film that had so much more potential than what it turned out to be. The dialogue is one of the weaker points of the film, along with a few questionable performances. For the most part, this is a fun film to watch, and it definitely is a refreshing take on comedy horror despite its imperfections. For what it's worth, the cast do what they can with a sketchy script and the result is an imperfect film that does still manage to deliver a fun, entertaining hour and twenty minutes. The direction is quite good, but is never great and that's to be expected from a low budget film. As a whole, if you're tired of the same old remakes, and want something really original, yet imperfect, give Baghead a shot. This is a decent picture that manages to be quite fun and is a must see for genre fans. At times the film has corny dialogue and laughable scenes, and not in a good way, luckily the directors are able to deliver more with effective interesting ideas that work, which in turn makes up for the film's mistakes. Baghead is a decent film overall and work well enough to keep you entertained from start to finish, just don't expect anything great with this one. Worth seeing if you want something quite different that your usual horror comedy.
½
Matt: Hey. What's that? An ultra low budget human drama that contains elements of comedy and horror. Its simple, nothing too amazing, but the improved performances make it seem natural, along with some actual tension in parts. A group of four struggling filmmakers decide to spend their weekend up at a cabin to hopefully develop a script and make a movie. The group includes two guys and two girls. One guy is more successful with women. One girl doesn't show the feelings for the other guy who desires her. Basically, there's a handsome guy, a funny guy, a slutty girl, and the cute girl. Some mystery ensues when a mysterious figure keeps appearing outside the cabin with a bag over their head. Whether its one of the four or someone else completely is the source of a mystery that begins to run throughout. The movie is shot with a digital camera and makes no attempt at having clever visual tricks, its about what its about, and I thought it worked. Chad: Goodnight, movie girlfriend. Michelle: Goodnight.
Aaron Neuwirth
Super Reviewer
½
Worth its weight in gold as a curiosity - kind of a mumblecore Bubble, if Bubble wasn't mumblecore as it is. As a movie about movies, it feels incessantly "filmed," and the viewer never forgets what they're watching. This approach may seem intrusive, but considering that this is a movie about intrusion on many different levels, the filming is a positive influence more than a detraction. The amateur actors are charmingly shitty, which sort of endears them to you all the more, and the characters they put forth are distinct and unabridged. The plot itself isn't terribly original but the execution is what to watch here - the Duplass brothers do an admirable job spinning a compelling tale from a simple foundation and without spending too much money. Nothing here will blow your mind, but it functions adeptly as a lo-fi genre meld, and at only 70 minutes it's not a huge waste of time even if you don't find something worth championing. An inspiring tidbit of indie cinema.
Drew Smith
Super Reviewer
Baghead Quotes
There are no approved quotes yet for this movie.