The Battle of Shaker Heights
(2003)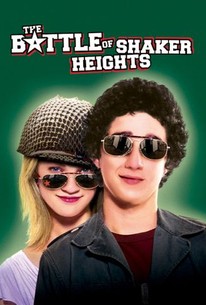 The Battle of Shaker Heights Photos
Movie Info
The Battle of Shaker Heights is directed by the team of Efram Potelle and Kyle Rankin. Kelly Ernswiler (Shia LaBeouf) is a quirky 17-year-old whose greatest passion is reenacting battles from World War II. After meeting Bart Bowland (Elden Henson), someone who is nothing like him but shares his passion, Kelly ends up putting his battlefield knowledge to work in real life. The script by Erica Beeney was the winner of the second Project Greenlight competition.
People Who Like this movie also like
Critic Reviews for The Battle of Shaker Heights
Audience Reviews for The Battle of Shaker Heights
Cast: Shia LaBeouf, Elden Henson, Amy Smart, Billy Kay, Kathleen Quinlan, William Sadler, Shiri Appleby, Ray Wise, Anson Mount Director: Efram Potelle, Kyle Rankin Summary: Teenaged Kelly (Shia LaBeouf) loves reenacting battles. When he befriends Bart (Elden Henson), also a war enthusiast, they decide to take on a school bully by using time-tested strategies. But their friendship is tested when Kelly falls for Bart's sister. Directors Kyle Rankin and Efram Potelle and screenwriter Erica Beeney are winners of Project Greenlight, Ben Affleck and Matt Damon's moviemaking contest. My Thoughts: "It was funny and entertaining. Shia plays a kid who's mother is a painter and kinda a hippie.. His father is a recovering drug addict trying to better himself by helping those who are still addicts.. Shia's character is funny, smart, and angry. I think others would enjoy this movie. It was made before Shia got big.. I think it kinda reminded me of his Even Stevens character with all the smart come backs.. Liked Elden Henson in this movie too. Haven't really seen him in a lot of films."
♥˩ƳИИ ƜѲѲƉƧ♥
Super Reviewer
½
The Battle of Shaker Heights may be a simple movie, but it does that in the best way possible. It brings together a great cast of characters in this low-budget, loveable movie. The story of Kelly (Shia Labeouf) as an actor in war films, decides to takes his acting skills into real life situations. When he mixes his war-life with romance, things get complicated and friendships are lost. This is a harmless movie that people of all ages can enjoy, with a heart-warming story and a great life lesson, The Battle of Shaker Heights just barely makes itself a great memory, but I will definitely be revisiting it in time. Very solid teen flick that not too many people know much about...
½
For it being a very small indie with essentially no reason for people to go see it other than it won Project Greenlight, it is a great movie. Shia LaBeouf really did a great job and carried the movie with no trouble. The story was a little corny, but it still manages to be a fun coming-of-age movie.
Conner Rainwater
Super Reviewer
The Battle of Shaker Heights Quotes
There are no approved quotes yet for this movie.