Battle of the Sexes
(2017)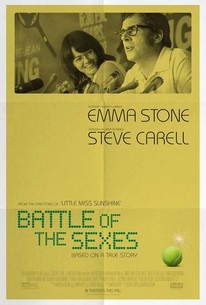 TOMATOMETER
AUDIENCE SCORE
Critic Consensus: Battle of the Sexes turns real-life events into a crowd-pleasing, well-acted dramedy that ably entertains while smartly serving up a volley of present-day parallels.
Battle of the Sexes Videos
Battle of the Sexes Photos
Movie Info
In the wake of the sexual revolution and the rise of the women's movement, the 1973 tennismatch between women's World #1 Billie Jean King (Emma Stone) and ex-men's-champ and serial hustler Bobby Riggs (Steve Carell) was billed as the BATTLE OF THE SEXES and became one of the most watched televised sports events of all time, reaching 90 million viewers around the world. As the rivalry between King and Riggs kicked into high gear, off-court each was fighting more personal and complex battles. The fiercely private King was not only championing for equality, but also struggling to come to terms with her own sexuality, as her friendship with Marilyn Barnett (Andrea Riseborough) developed. And Riggs, one of the first self-made media-age celebrities, wrestled with his gambling demons, at the expense of his family and wife Priscilla (Elisabeth Shue). Together, Billie and Bobby served up a cultural spectacle that resonated far beyond the tennis court, sparking discussions in bedrooms and boardrooms that continue to reverberate today.
News & Interviews for Battle of the Sexes
Critic Reviews for Battle of the Sexes
Audience Reviews for Battle of the Sexes
½
My fear was that this film would be too "on-the-nose" and lack subtly when it came to portraying systemic sexism in tennis at the time. While I feel that was true at times, for the most part, it did a really good job at illustrating the struggle of the athletes as well as Riggs' and King's situations specifically. There is far more to this film than the eventual match between Billie Jean and Bobby, and with good performances from Carrell and Stone, it makes for a pretty interesting movie. While it probably isn't one I will recall as great, it was definitely worth the watch.
Sanjay Rema
Super Reviewer
In 1973, tennis player Billie Jean King (Emma Stone) was the number one player in the world, but to many she was still only just a woman playing a man's game. Bobby Riggs (Steve Carell) was a retired tennis player trying his hand at being a family man. He's restless and eager to prove something. He's a natural hustler and so he sees female tennis players fighting for equal pay as his opportunity at a comeback. Riggs wants to prove a point about the inferiority of female athletes. He will play and beat any female tennis pro. He embraces the term of being a male chauvinist and becomes a lightning rod. Men around the world cluck about their biological superiority in athleticism. Billie Jean King feel the full pressure to prove him wrong and make a stand for the women's movement. I was pleasantly surprised at the degree of depth given to the characters in Battle of the Sexes, turning what could have been a light-hearted and sprightly throwback to a sports novelty into something a bit deeper and more meaningful, a thoughtful character piece on this climactic conversion of sports, celebrity, and feminism that still resonates. Billie Jean King is the number one women's tennis player in the world at age 29. She's also deeply in the closet and Battle of the Sexes gives considerable attention to this internal conflict of self. The film successfully makes you feel her yearning and unrestrained attraction to hair stylist Marilyn Barnett (Andrea Riseborough). The directors film their first interaction in extreme close-up, which forces them together tighter and allows us to see every little tremor of nerves play across Stone's face. Her affair with Marilyn coasts on that combination of guilt and compulsion, the push and pull of what she desires and what she can have. Sponsors would not take kindly to an openly gay tennis star. Billie Jean King is struggling with her concept of who she is versus the expectations of others and society. By stepping up to Riggs' challenge, she is fighting for her own sense of agency. She feels the intense pressure to perform with the credibility of women's sports placed upon her shoulders. She's fighting for equal pay and fair treatment, but what happens to that mission if she fails against a 55-year-old oaf? Billie Jean King comes across as a compelling specimen, feisty and independent but also hampered by what those around her would think over her feelings for another woman. Stone delivers a far more layered and emotionally engaging performance here than in her Oscar-winning turn in La La Land. Hers is a character trying to become comfortable in her own skin. Riggs is the showboat while Billie Jean King is not comfortable in the spotlight. Stone displays the grit and tenacity as well as the vulnerability and complexity of her character's self doubts and internal struggles. Her scenes with Marilyn have a vitality to them that is absent throughout the rest of the movie, allowing the audience to understand how that burgeoning romance unlocks something within her, something that she might not even fully comprehend. When she does win the big match, Stone seeks solitude and just cries her eyes out, finally able to let her guard down, acknowledge the toll of the moment, the relief of not letting down the women's movement, and the sheer elation of rising to the occasion. It's a moment where Billie Jean King feels her most free, where she's sobbing by herself. Once that's done she has to collect herself and get back in front of the cameras, adopting her shield once again to face the outside world. And then there was Bobby Riggs, 55 years old at the time and languishing on the seniors' tennis circuit and desperately missing the spotlight. The movie finds notes to make him more of a character rather than simply a misogynistic antagonist, and whether that shaded portrayal is deserved is another question. Riggs is fully convinced of his physical capabilities and that he can beat the stars of the women's tour. These are women fighting for equality and equal pay but Bobby, and he's certainly not alone, believe that the sexes are inherently unequal when it comes to physical competition. For him, it's a way to prove his skills and send a message as well, but more so, as presented in the film, it seems like it's the spotlight that he misses most. He's enviously licking his lips at the tournament prize purses on the tennis circuit now, even the women's prizes. He can make more money than he's ever earned in his pro career. He can still contend, he can still prove something, and the money and stage has never been bigger. He's getting far more attention at 55 than he ever received during his pro tennis career where he won four Grand Slam titles (he was the number one player for three years). Carell (The Big Short) is well suited to play broad characters that get even bigger with attention. He's soaking up every moment as if he's finally getting what he feels is long overdue, and every hammy PR stunt only magnifies the intensity of that attention. He's a huckster who gleefully adopts the moniker of a misogynist. At 55, Bobby Riggs has found himself in the biggest spotlight with waves of adoring fans and he doesn't want to give it up. You know who else comes across really well in this movie is Billie Jean's husband, Larry King (not to be confused with the TV host of the same name). It's not a film that props up the husband as the focal point of someone else's story; there are more important aspects than how Billie Jean's lesbianism affects him. However, he is still an important person in Billie Jean's life and he is processing a form of loss. His relationship with her cannot stay the same, but Larry recognizes what she needs and chooses to be supportive rather than vindictive. He cares enough to put her needs ahead of his own, and that only increased my empathy for him. A marriage pulled in multiple directions is ripe for examination, and it's rare to maintain sympathy for all of the participants and this movie does. By the time that seismic tennis battle comes about, the directors Jonathan Dayton and Valerie Faris (Little Miss Sunshine, Ruby Sparks) smartly refrain from lots of edits and angles, instead preferring a standard TV shot to better immerse the audience. The camera angle allows for the entire tennis court to be displayed, and we'll watch sets play out in long takes with the two athletes running up and down the court. This allows us better understand and appreciate the strategy of both players, and it also probably makes the special effects budget happy as they don't have to do much to cover the presence of the stand-ins playing the game instead of our movie stars. Even though I knew how the match would end, I was glued to the screen because of everything the match represented. By forgoing the quick cuts and multiple angles that can jazz up the excitement of a tennis presentation, the film is able to carefully illustrate Billie Jean King's strategy and skill. She intended to run Bobby Riggs up and down the court and exhaust him. Letting the tennis game play out in a wider presentation also better serves the sense of payoff. This is the moment we've all been waiting for, as were the 50 million Americans that tuned in. When she does win, I couldn't get enough of the montage of chagrined male faces twisting in pained grimaces as this lady proved to be the superior player. You could give me a whole movie of pained reaction shots from misogynists and I would be ecstatic. It's also hard to ignore the parallels Battle of the Sexes makes with our current climate. 44 years later, women are still fighting tooth and nail for equality and credibility without qualifiers. Serena Williams is not just the greatest female tennis player of all time; she's also the greatest tennis player, period. Women's sports are often seen as lesser in comparison to the men, and abhorrent pay discrepancies are still a reality. Look at the U.S. women's soccer team, which won the World Cup in 2015, only earning a small fraction of what the U.S. men's team, who finished fifteenth out of a group of sixteen. The casual sexism and lowered expectations extend beyond the realm of sports, as the 2016 presidential election serves as a powerful reminder of the obstacles professional women face in modern society. It's easy to view Battle of the Sexes through the lens of the 2016 election: a very capable woman who just wanted to do her job is lambasted by an inferior opponent coasting on puffed-u bravado, masculinity, sensationalism, and the sense that the established order of white males is losing something divinely theirs. I'll admit that channeling this analogue does provide the ending with even more uplift. Battle of the Sexes is an engrossing story with big personalities, big conflicts, and big stakes, and it feels just as socially resonant forty years later. The messaging can be a bit heavy-handed at time, as Bill Pullman's character seems to be a composite of all male chauvinism personified, but it's still easy to get swept along with its sunny cinematography, 1970s period soundtrack, and feel-good story that remembers to always be entertaining. The characters have more depth than I was expecting, and the actors bring extra layers and shades to their roles, making Bobby Riggs a better rounded character than he might have been in real life. Battle of the Sexes is a timely crowd pleaser that doesn't lose sight of its characters in the guise of its message. By the end of the film, I was cheering, moved, and nicely satisfied, and what more could you ask for? Nate's Grade: B+
Nate Zoebl
Super Reviewer
LITTLE MS. SUNSHINE - My Review of BATTLE OF THE SEXES (4 Stars) I love the films of Hal Ashby, particularly his 1970s stretch which included HAROLD AND MAUDE, BEING THERE, SHAMPOO, COMING HOME, THE LAST DETAIL, and BOUND FOR GLORY. His best work felt so natural, yet you never thought you were watching a documentary. There was real art in his frames. I especially loved the sun-dappled quality of his images, how you believed his characters lived in their spaces. Valerie Faris and Jonathan Dayton, in only their third feature (!) since 2006's LITTLE MISS SUNSHINE, clearly have a love for Hal Ashby, and they expertly latch onto his aesthetic for the altogether wonderful, exhilarating BATTLE OF THE SEXES, one of my favorite movies of the year. Screenwriter Simon Beaufoy (SLUMDOG MILLIONAIRE) juggles a lot of balls in the air here and nearly sticks all of the landings. Set during the infamous 1973 tennis match between Billie Jean King and Bobby Riggs, this goofy stunt of a game would somehow turn out to be a watershed moment in the women's equality movement, and definitely one which paved the way for such highly paid and decorated stars as Serena Williams. Of course, when you're a hero, you don't always recognize it right away. You're just living your life. That's when we meet a late 20s King (Emma Stone), who, as the world's top tennis champion, gets interrupted at a function by her manager Gladys (a hilarious Sarah Silverman), who informs her that their current tennis tournament will yield the women players a small fraction of what the men get paid. In full activist stance, she takes her grievances to the head of the tennis commission (a feisty Bill Pullman), but he stands behind his sexist policies. In turn, Gladys and King break off from his association and start their own tournament. Simultaneously, we meet Riggs (Steve Carell), former tennis champion, who at 55 has been reduced to working a dead end job with his father-in-law while hiding a secret gambling life from his wealthy wife (an assured Elizabeth Shue - welcome back!!). A man who lives for the hustle and a return to his glory days, Riggs zeroes in on King and challenges her to an exhibition match to prove that men are superior to women. What followed, as tacky and as silly as it could be, changed the paradigm. Ok, not completely. Sexism still rules and this film feels so current considering how an immensely qualified woman was treated by a boorish, racist, sexist pig in a certain high profile election. Regardless, Billy Jean King made history. BATTLE OF THE SEXES takes its time getting to that match, like any good sports movie should, and delves into King and Riggs' lives. On the surface, King was happily married to her handsome husband Larry (Austin Stowell in a beautifully understated performance), but a chance meeting with Marilyn (Andrea Riseborough, warm and perfect), a hairdresser, awakens sexual feelings in her, leading to a sweet, quiet affair. With so much at stake personally and career-wise, King feels the need to keep this relationship in the closet. Stone masterfully navigates the complexities of King's circumstances while keeping her bold, brash, fearless and interesting despite the daunting situations. She fully inhabits King's butch characteristics and I couldn't help but be reminded of Jodie Foster. Stone nails this role. It's a career best so far in her still young career and there's no doubt she'll get an Oscar nomination again this year for her stellar work. Carell is equally mesmerizing and much more complex than the surface level buffoon he plays. He shares a beauty of a scene with Shue that makes you fall in love with this clown and the very perceptive wife who has had to put up with his nonsense. Carell's funny-sad performance features comic highs such as his wonder of a speech at a Gambler's Anonymous meeting and a beautifully shot scene at an escalator with his disapproving adult son, well-played by Lewis Pullman, Bill's son. In fact, this is one gorgeously shot movie. Linus Sandgren, who won the Oscar last year for LA LA LAND, also clearly worships at the altar of Hal Ashby. The film may be set in the 70s, but it's not presenting itself in a campy manner. You feel the rhythms of hearts racing, every solar flare feels evocative of a time and place, especially in a great driving scene with Billie Jean and Marilyn, as their hair flies around with each gust of wind. Elton John's "Rocket Man" plays on the radio, which, in the context of this week, gives it an odd meaning, but it works so well to evoke budding love and yearning in this moment. It's one of those classic scenes along the lines of another Elton John moment, when everyone sings along to "Tiny Dancer" on that bus in ALMOST FAMOUS. A seduction scene in a disco as "Crimson And Clover" plays on the soundtrack has a trippy, woozy quality. I loved the use of an obscure Bach-inspired instrumental track called "Joy", a long-forgotten early 70s hit and the images that accompany it. The film is shot with such energy. It has spirit. It's alive. Special mention must also go to Mary Zophres' period perfect costumes and especially Judy Becker's production design. She's had practice with this era by way of AMERICAN HUSTLE, but I wanted to bow down to her simply for the coin-operated mini-TVs at the airport. We've come a long way baby! The fact that BATTLE OF THE SEXES is a winning sports movie coupled with an astute look at sexuality and sexism, all told with a deceptively simple breeziness, adds up to one highly entertaining movie. Yes, it's populist entertainment, but you feel for these people. Additionally, it has an incredible supporting cast. In addition to those I've mentioned, I loved Natalie Morales (PARKS AND RECREATION) as Rosie Casals, a wisecracking fellow tennis player who ends up playing a major part in the big match...complete with well-realized FORREST GUMP-like trick photography. Fred Armisen is distracting and slightly wasted in a thankless role as Riggs' vitamin supplier, but it's not a big deal. Where the film goes very wrong is with Alan Cumming as the outfit designer for the women's tour. Cumming plays a real life designer/tennis pro named Ted Tinling, who came across much more plain spoken than the BOYS IN THE BAND-level caricature Cumming brings to the role. It's not that he's bad. He's actually commanding and memorable, but it feels a little unreal given the naturalness of everyone else's performances in the film. Cumming also gets saddled with a terrible line towards the end of the film that almost sinks the whole soufflé. It's horribly on the nose and hokey, especially considering it follows an extremely strong, wrenching scene of King alone in a locker room. Perhaps test audiences wanted a moment of catharsis for Billie Jean's sexual struggles, but the reality, for me, proves far more interesting than the fantasy of a dumb summation line. Luckily, it cannot spoil the good will this movie has in droves. Billie Jean King and Bobby Riggs changed the world, and they did so with all the bravery and tackiness and show biz ridiculousness they could muster. King may have improvised her way through this part of her life, but the impact of her deeds still matters today. This joyous, wonderful film turns the silly into the sublime.
Glenn Gaylord
Super Reviewer
Battle of the Sexes Quotes
There are no approved quotes yet for this movie.
Discussion Forum
Discuss Battle of the Sexes on our Movie forum!