What to know
critics consensus
Beast plays like bleak poetry, unfurling its psychological thrills while guided by its captivating leads and mesmerizing, visceral visuals. Read critic reviews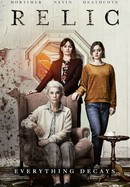 The House That Jack Built
Where to watch
Rent/buy
Rent/buy
Rent/buy
Rate And Review
Movie Info
In a small island community, a troubled young woman falls for a mysterious outsider who empowers her to escape her oppressive family. When he comes under suspicion for a series of murders, she defends him at all costs.
News & Interviews for Beast
Audience Reviews for Beast
YOU DIRTY GIRL - My Review of BEAST (3 1/2 Stars) There's a little-known icon in pop culture my friend John Cantwell refers to as the Dirty Girl. John, who knows a thing or two about Dirty Girls, plays the ultimate one with his beloved LOVE CONNIE character. He told me, "Everybody loves the Dirty Girl" and I'm inclined to agree. Juliette Lewis in NATURAL BORN KILLERS. HOLE-era Courtney Love in her Baby Doll dress with her leg propped up on an amp as she shreds her guitar. Kate Winslet and Melanie Lynskey's obsessed, fever dream portrayals in HEAVENLY CREATURES. Divine firing a pistol at an audience while shouting, "Who wants to die for art?" in FEMALE TROUBLE. They're brash, brazen, slightly unhinged, and not afraid to get their hands dirty. Now, let's extend a warm welcome to the newest member of the DGC (Dirty Girl Club), Jessie Buckley, an Irish singer/actor who's initial claim to fame was her 2nd place finish in a BBC American Idol-style talent show called I'D DO ANYTHING. Her performance in BEAST, the debut feature from writer/director Michael Pearce should erase any wholesome image anyone had of her as her performance here can best be described as a disturbing gut punch filled with primal screams and, yes, lots and lots of literal dirt. BEAST, a psychological thriller, take a long, hard look at Buckley's Moll, a young woman living under her mother's care and who clearly experienced some prior, as-yet-unnamed trauma. It's her birthday when we meet her, and instead of remaining at the family party, she runs off to a club to drink, dance and flirt all night. She finds herself on a walk of shame with a man she met there who makes unwanted advances toward her. Another stranger, with rifle in hand, appears and scares away her harasser. He's Pascal (Johnny Flynn), a young, good looking but messy man who is clearly the Dirty Boy to Moll's Dirty Girl. The two start a tentative romance, which Moll hides at first from her mother (a fantastic Geraldine James, who I remember fondly as the "Bitty Mommy" in the classic LITTLE BRITAIN breastfeeding sketches). During all of this, the police investigate a series of murders, which may or may not be the work of Pascal or Moll or perhaps someone else. We eventually learn about a traumatic moment in Moll's past, as she, as our unreliable narrator of sorts, slowly but surely unravels. BEAST aims to call into question the nature of evil and its place in society. I won't spoil any more of the story, as it's a moody, immersive, visual experience, beautifully shot by cinematographer Benjamin Kracun, whose work I did not know before this. It's a highly accomplished piece of directing, acting and photography. Unfortunately, it's also overextended and a truly, painful ugly experience. For those who love their film stories on the messy side, this film will astound them. It explores fascinating, original themes and has plenty of twists and turns to keep you guessing from beginning to end. The whodunit aspect of the film, however, pales in comparison to what it's trying to say about who we are as people and where we go after recognizing our true natures. Things get wrapped up a bit too tidily in the end, whereas there's a specific moment late in the film that would have ended things on a more chilling note. Regardless, I loved Buckley's voracious attack on her character, a primal scream from deep down inside the mind of a very dirty girl!
See Details