The Beast From 20,000 Fathoms
(1953)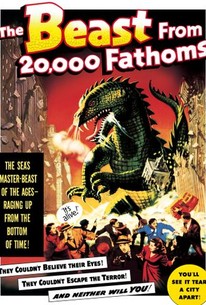 The Beast From 20,000 Fathoms Photos
Movie Info
An atomic bomb test in the Arctic Circle awakens a long-hibernating and ostensibly extinct Rhedosaurus. Emerging from the sea, the Rhedosaurus wreaks havoc on NYC in every direction, leveling cities and amusement parks in his path. The film is based on Ray Bradbury's short story "The Fog Horn."
Critic Reviews for The Beast From 20,000 Fathoms
Audience Reviews for The Beast From 20,000 Fathoms
Ah the old nuclear bomb testing plot idea, a stable diet for vintage sci-fi flicks of the past. Those silly darn Americans up to their misjudged tests that end up wreaking havoc on the world...well normally their native country actually. This film helped kick start the huge monster craze including the seminal 'Godzilla' and the use of nuclear weapons testing for plot ideas that cause these monster riots. This time they inadvertently disturb a prehistoric reptile that was trapped/hibernating in the deep ice of Antarctica. The huge scaly creature makes it way down the east coast of the US to New York where it decides to set up camp and munch on various things. This is where the Harryhausen stuff of legend really kicks off, giant reptilian monsters roaming around and eating people. The big lizard looks really good, kinda like a four legged 'Godzilla' but surprisingly quite decent and not as cheesy. What is also so cool is the way Harryhausen has animated this fella, he moves really well, seems a bit like a young puppy behaviour wise at times (sinking the first fishing ship) but its still good. Bit jerky of course but its nicely done. Should I be surprised? yeah I think so, this is an old film and an early one for Harryhausen so you would expect it to look hokey...but it doesn't. Can't lie here but like other monster flicks its all about the rampage isn't it, yeah come on it is. The plot building with the stereotypical characters...the good looking hero, the old bald scientist and his attractive female assistant is all well and good but you're really wanting building/vehicle stomping. Everything is much better than his previous main creature flick ('Mighty Joe Young'), acting, sets, props, costumes and additional models are all tighter and sharper, it does look like they had more money to use for this film. The whole film looks really good bottom line, even the underwater sequence is enjoyable if quaint. This really is one of the pinnacles of charming sci-fi that anyone can sit down and enjoy. I love how the acting is so straight laced in militaristic fashion, how everyone looks smart in their lovely suits and fedoras of the time, how they fade out each sequence in that traditional way and the funny way they squeeze in stock footage, some of which works, some stands out badly. Easily one of the best creature features from Harryhausen's portfolio with a tremendously good monster, some nice acting from Cecil Kellaway as the clever old 'Dr Elson' and some lovely cute moments of ham...when the good 'Dr Elson' decides to stake his career on the beast story being true simply because a sailor identified a random drawing that looked kinda like the monster he thinks he saw.
Phil Hubbs
Super Reviewer
Terrific and accomplished Sci Fi monster movie about a dinosaur that awakens after a nuclear test done in the Arctic. The beast is unleashed and chaos ensues. The aspect of the film that really stands out is the astounding special effects that were used to create the beast. I was astounded by how good this film looks, even by today's standards. The film boasts a good, but predictable plot, even with that said; it's nonetheless a fun entry in the monster movie cannon of classics. Acting wise, the cast do deliver great performances and there are plenty of worthwhile performances here to make this one enjoyable. Cecil Kellaway gives a great performance here as Prof. Thurgood Elson and you really feel bad when he meets his demise at the hands of the beast. I've never heard of this gem, and it probably has been dwarfed by other films in this era of terror. If you come across this one, check it out and it is worth it. This is really an obscured gem of the era of memorable monster flicks, and genre fans definitely should check this one out. With great performances, creative special effects, and memorable climax, this is a near flawless Sci Fi horror monster flick that deserves to be seen. The plot is good, and it moves at a steady pace. There's always something happening on-screen to make the film interesting and fun for the audience, and The Beast from 20, 000 Fathoms is a terrific, near flawless film that is deserving of being seen by a bigger audience. The film is just like every other monster flick, but is nonetheless a worthwhile viewing for viewers wanting a stellar monster classic to watch. The effects of the beast alone make this a terrific flick and it has a fun plotline to boot.
½
.A pretty good Sci-fi Film that looks as if its the US answer to Godzilla. An atomic blast in the artic releases a pre historic monster that swims down the east coast till it hits New York City where it wrecks havoc. Lee Van Cleef a very young Lee Van Cleef makes a short appearance. Not really scary but entertaining. 3 1/2 stars
Bruce Bruce
Super Reviewer
The Beast From 20,000 Fathoms Quotes
There are no approved quotes yet for this movie.