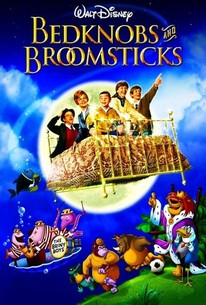 Bedknobs and Broomsticks
1971, Kids & family/Fantasy, 1h 57m
36 Reviews
100,000+ Ratings
What to know
critics consensus
Bedknobs and Broomsticks often feels like a pale imitation of a certain magical guardian and her wards, but a spoonful of Angela Lansbury's witty star power helps the derivativeness go down. Read critic reviews
Where to watch
Rent/buy
Subscription
Rent/buy
Rate And Review
Bedknobs and Broomsticks Photos
Movie Info
During the Battle of Britain, Miss Eglantine Price (Angela Lansbury), a cunning witch-in-training, decides to use her supernatural powers to defeat the Nazi menace. She sets out to accomplish this task with the aid of three inventive children who have been evacuated from the London Blitz. Joined by Emelius Brown (David Tomlinson), the head of Miss Price's witchcraft training correspondence school, the crew uses an enchanted bed to travel into a fantasy land and foil encroaching German troops.
Audience Reviews for Bedknobs and Broomsticks
An uneven, overlong and sometimes dull Disney movie that tries to follow in the footsteps of Mary Poppins, the main difference being that none of the songs is remotely memorable (in fact, most of the musical numbers are annoying) and the last act is just terrible.

When I was younger, I used to spend a lot of my life alone in a studio with one of those tiny little 15cm TVs you wouldn't be caught dead with nowadays, plugged in to a VCR player, and exactly three movies on VHS. One of those three movies (the best of those three) was Bedknobs and Broomsticks. I watched it multiple times a day, every day, for months at a time. A period piece musical that saw orphans and their witch-friend get an army of sentient suits of armour to fight the Nazis... Is it any bloody wonder I turned out the way I did? Great movie though. Wouldn't kill me to see a remake with modern technology. So long as it kept the vibe and setting of the original.

"Traguna, Mekoides, Trecorum, Satis dee." The Disney classic Bedknobs and Broomsticks is a whimsical adventure. The film has a fairly good cast, which includes Angela Lansbury, David Tomlinson, and Roddy McDowall, and features several fun musical numbers. Based on a children's book, the story follows an aspiring witch who's studying witchcraft in order to help with England's war effort during World War II. There's a bit of an odd tone to the film, with the mixing of World War II elements and fantasy, and the combining of animation with live-action also seems rather out of place. While it has its shortcoming, Bedknobs and Broomsticks still has that Disney magic.

Enjoyable, but not perfect Disney Live action feature, Bedknobs and Broomsticks is a bit of a letdown considering that Mary Poppins was such a wonderful film. I'm not saying that this film is bad, but compared to others in the Disney canon, it'd just good, not excellent. However, this is nonetheless a good enough family film to watch with your family and is a film that people of all ages will surely enjoy. Bedknobs and Broomsticks is a fun film, one that could have been just as great as Mary Poppins, but sometimes it leaves a lot to be desired. I felt that at times the film tried too hard, and they tried to outdo previous films. Unfortunately it lacks that little something to really make this film special. Sure it has all the usual trademarks, but I just felt it was a step down from other Disney films. For what it is, it's still a very entertaining film for what it is, and is worth watching. Despite its flaws, Bedknobs and Broomsticks is a fun, entertaining family film that Disney fans should enjoy. However, Mary Poppins was the better film, and it seemed that they tried to outdo that film with this one, but in doing so, you felt that the script at times was uneven and didn't deliver its full potential. The film could have been much better as a whole, but overall, it's still a fun little entertaining film that is a must see for the entire family. A good film for what it is, Bed knobs and Broomsticks is still a Disney classic, but in some areas, it does lack, and it's a bit disappointing. Luckily the cast saves this film and it's what makes this film worth seeing.
See Details