Bedknobs and Broomsticks
(1971)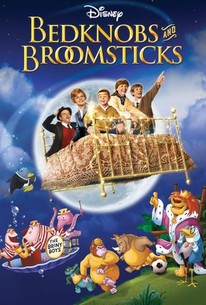 Bedknobs and Broomsticks Photos
Movie Info
This Disney film, set in wartime England, stars Angela Lansbury as a would-be witch who hopes to use her newly-acquired conjuring powers to forestall a Nazi invasion. Saddled with three surly kids who've been evacuated from London, Lansbury wins over her charges by performing various and sundry feats of magic.
Critic Reviews for Bedknobs and Broomsticks
Audience Reviews for Bedknobs and Broomsticks
½
An uneven, overlong and sometimes dull Disney movie that tries to follow in the footsteps of Mary Poppins, the main difference being that none of the songs is remotely memorable (in fact, most of the musical numbers are annoying) and the last act is just terrible.
Carlos Magalhães
Super Reviewer
Enjoyable, but not perfect Disney Live action feature, Bedknobs and Broomsticks is a bit of a letdown considering that Mary Poppins was such a wonderful film. I'm not saying that this film is bad, but compared to others in the Disney canon, it'd just good, not excellent. However, this is nonetheless a good enough family film to watch with your family and is a film that people of all ages will surely enjoy. Bedknobs and Broomsticks is a fun film, one that could have been just as great as Mary Poppins, but sometimes it leaves a lot to be desired. I felt that at times the film tried too hard, and they tried to outdo previous films. Unfortunately it lacks that little something to really make this film special. Sure it has all the usual trademarks, but I just felt it was a step down from other Disney films. For what it is, it's still a very entertaining film for what it is, and is worth watching. Despite its flaws, Bedknobs and Broomsticks is a fun, entertaining family film that Disney fans should enjoy. However, Mary Poppins was the better film, and it seemed that they tried to outdo that film with this one, but in doing so, you felt that the script at times was uneven and didn't deliver its full potential. The film could have been much better as a whole, but overall, it's still a fun little entertaining film that is a must see for the entire family. A good film for what it is, Bed knobs and Broomsticks is still a Disney classic, but in some areas, it does lack, and it's a bit disappointing. Luckily the cast saves this film and it's what makes this film worth seeing.
½
A fun adventure, with what was probably quite an impressive mix in 1971 of animation and Actors combined. Very drawn out and very dated now, although the Portobello Market scene was really enjoyable.
Lady D'arbanville
Super Reviewer
Bedknobs and Broomsticks Quotes
There are no approved quotes yet for this movie.