Behind The Burly Q
(2010)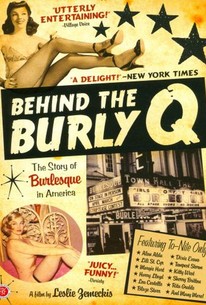 Behind The Burly Q Photos
Movie Info
Although its origins derive from France, Great Britain and Greece, burlesque became a wildly popularAmerican form of art that thrived in the early to mid part of the 20th century. Because of the sexualinnuendo and the barely-there costumes it has largely been left out of the history books.In the 1840s burlesque was applied to a wide range of comedic plays that entertained the lower and middleclasses in Great Britain. Coming to America, burlesque evolved into shows performed by scantily-cladbeauties. It thrived, appealing to the masses of working class people who weekly stormed the theatres tosee troupes like "The British Blondes", a bevy of beauties dressed in tights. Burlesque poked fun at theupper classes, at sex, and at what people were willing to do in the pursuit of obtaining sex. By the 1920sthe old burlesque circuits closed and strip tease was introduced to offer something vaudeville and film didnot.During the Great Depression, for a dime a man could fall into a big gaudy burlesque show and forget histroubles. From theatres to nightclubs, burlesque was a raucous sexy show filled with gorgeous women,strippers, comedians, acrobats and singers. The tame by today's standards, the shows were consideredrisqué, and most performers were looked down on as second rate.Backed by public outrage, in 1937 New York Mayor Fiorello La Guardia closed the burlesque houses in hisstate. The use of the word "burlesque" was outlawed in advertising. The Minsky brothers, who some sayintroduced nudity to the burly audiences, were so closely associated with burlesque that La Guardia bannedthe use of the name Minsky. Once again, burlesque changed, moving across the river to New Jersey toescape censure. Eventually comedians and musicians' parts were reduced in the shows and more stripperswere brought on. By the 1960s hard-core porn was available and burlesque had died. But what happened tothe thousands of performers? Where did they go?"Behind the Burly Q" is the behind-the-scenes stories of these men and women as told by the performersthemselves. For the first time ever, the performers from the golden age of burlesque relate theirheartbreaking, triumphant stories of life on the road performing in the burly circuit. Many were ashamed oftheir past and had never talked about their experiences. Just as many had never been asked.Director Leslie Zemeckis and producer Sheri Hellard traveled extensively across the country from theBayous of post-Katrina Mississippi, to New Jersey, Florida and all points between. The duo tracked downand recorded dozens of interviews with little-known performers to the last of the living legends ofburlesque. They spoke with relatives of many deceased stars. The men and women in this documentaryopened their scrapbooks as well as their hearts, relating memories they had all but forgotten.Amongst those interviewed were former musicians, strippers, novelty acts, club owners, funny men andwomen, authors and historians assembled together for the first time ever to tell you just what reallyhappened in a burlesque show. Sadly, many of the performers have since passed away, making this theirlast, and often times only interview. We dedicate this film to their memory."Behind the Burly Q" is the definitive history of burlesque during its heyday. Funny, shocking,unbelievable and heartbreaking, their stories will touch your hearts. Hear the performers in their ownwords. See the performers in action. We invite you to peek behind the curtain at the burly show. -- (C) First Run Features
News & Interviews for Behind The Burly Q
Critic Reviews for Behind The Burly Q
Audience Reviews for Behind The Burly Q
Really interesting and really funny! It's awesome to see all of the old footage and pictures and hear from the people who were part of it.
Sarah Prisbylla
Super Reviewer
Behind The Burly Q Quotes
There are no approved quotes yet for this movie.
Discussion Forum
Discuss Behind The Burly Q on our Movie forum!