Berlin: Symphony of a Great City (Berlin: Die Sinfonie der Großstadt)
(1927)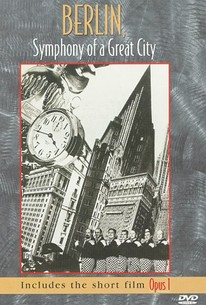 Movie Info
This classic German documentary is a valentine to the "new" Berlin of the late 1920s, enjoying a renaissance after the dregs of the Depression. Director Walter Ruttman's five-reel symphony begins at dawn and ends at midnight, showing Berliners at hard work by day and enjoying the city's boisterous nightlife. Essentially a feature-length montage--one shot of pedestrians is followed by a brief clip of a cow herd--the film was heavily influenced by the earlier works of Russian filmmaker Dziga Vertov, and was itself very influential in fostering the "city symphony" or "opus" genre (excellent examples of which included Holland's 1929 Rain and Sweden's 1947 Stockholm: Rhythm of a City). There is also a large degree of poignancy in recording the everyday affairs of a city so far from and yet so near to the Nazi nightmare. Though many current prints of Berlin: Symphony of a Great City carry a musical track, this silent documentary creates its own music by virtue of its rhythmic editing. ~ Hal Erickson, Rovi
Critic Reviews for Berlin: Symphony of a Great City (Berlin: Die Sinfonie der Großstadt)
Audience Reviews for Berlin: Symphony of a Great City (Berlin: Die Sinfonie der Großstadt)
Image and sound, rhythm and music, an entrancing audiovisual experiment in five parts showing a day in the life of a city that lives and breathes, with a fantastic use of Soviet intellectual montage to create brilliant visual rhymes on the many different aspects of urban life.
Carlos Magalhães
Super Reviewer
Interesting early documentary that allows you to experience early 20th century Berlin. That being said as with most early silent documentaries it is very tedious and hard to sit through.
Chris Hart
A montage of scenes and moments from a day in the life of Berlin, one of several "city symphony" films that were popular at the time. Ruttmann employs a rhythmic editing style reminiscent of the Soviets, particularly Vertov. The film has a great deal of lyricism and poetry to it, and Ruttmann has a fantastic eye. Unfortunately, he doesn't really do a whole lot with the medium. There aren't that many moments where you think "I wonder why he made that decision" or "oh that was a clever transition". It has a very natural flow to it without many surprises. Also, the first three acts (he divides the day into 5 sections) can get a bit repetitive, especially with all the shots of trains. But things pick up towards the end, including a fantastic cabaret scene. All in all, it's a lovely film, but not as thought-provoking as The Man With the Movie Camera.
Martin Teller
Berlin: Symphony of a Great City (Berlin: Die Sinfonie der Großstadt) Quotes
There are no approved quotes yet for this movie.
Discussion Forum
Discuss Berlin: Symphony of a Great City (Berlin: Die Sinfonie der Großstadt) on our Movie forum!