Better Than Sex
(2001)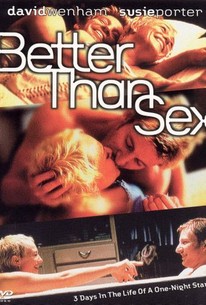 Movie Info
While visiting Sydney, Aussie wildlife photographer Josh meets Cin, a dressmaker, at a party just three days before he's to return to his job in London. During a shared taxi ride ripe with sexual tension, both Josh and Cin privately weigh the pros and cons of a one-night stand and come to the same conclusion--why not? Immediately, they hop into bed at Cin's studio and share a blissful night of sexual adventure that doesn't end the next morning. Josh and Cin soon find themselves enjoying an intense three days of nonstop sex and talk. As they get to know each other ever more intimately, the two strangers begin to wonder whether what they are experiencing is something even better than sex--could this be love?
People Who Like this movie also like
Critic Reviews for Better Than Sex
Audience Reviews for Better Than Sex
½
A surprisingly good film that looks at the nature of intimacy between two people who have just met. Josh (David Wenham) is a nature photographer, visiting from England where he lives, who winds up in bed with Cin,(Susie Porter) who occasionally creates wedding dresses. They meet at a party and spend the next few days getting to know one another and beginning to share their thoughts and hopes and dreams and their past with one another. Over the course of time, we see them begin to really care about each other. The dialog is unforced and feels so natural, even when, documentary style, the characters are shown speaking to the camera. Rather than distracting, this viewer found the technique to be quite revealing and allowed the viewer to delve into their thought processes. It worked on every level for me. One begins to care deeply for the characters and where they are heading. Beautiful cinematography, a terrific set design and supporting characters who actually support the main story added up to one entertaining film with something to say, and that says it clearly. These are real people dealing with intimacy in an interesting way.
Mark Abell
Super Reviewer
This movie was simple in plot line. An one-night stand that was expected to end, managed to build the characters with a mixture of feelings and sexual progression. It gave the feeling that it was a stage play. It had a few amusing weird scenes. I guess it was no blockbuster, but it was well-acted, well photographed, well scripted, and an interesting ending, and was warming, while succeeding in making you see the characters without seeing their appearance. Not bad.
Daisy Maduro
Super Reviewer
The story of a one night stand turning into love. Rather amusing erotic comedy with a few very very true observations about sex, orgasms, boys and girls and how long it takes females to get ready to go out.
Better Than Sex Quotes
There are no approved quotes yet for this movie.