Big Business
(1929)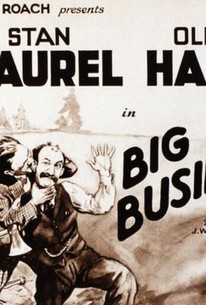 AUDIENCE SCORE
Critic Consensus: No consensus yet.
Movie Info
Stan (Stan Laurel) and Ollie (Oliver Hardy) are selling Christmas trees door-to-door. Stan unintentionally insults their first customer (a single woman) when he asks, "If you had a husband, would he buy a tree?" The second house has a sign up that says "No Peddlers." Ollie rings the bell anyway and gets a couple of knocks on the head with a hammer. When they come to Jimmy Finlayson's (James Finlayson) house, he tells them that he doesn't want a tree, and he closes the door -- on a tree branch. They ring the bell again, and Finlayson says that he still doesn't want a tree. He closes the door again, and Stan's coat is stuck in it. So they ring the bell again. Soon, tempers begin to flare, and the orgy of destruction starts small. Finlayson chops their tree in half and cuts Ollie's tie with scissors. Laurel and Hardy rip out Finlayson's phone and the doorbell. By the end of the movie, Finlayson has destroyed our boys' trees and their car. They have smashed his furniture, dug up his yard, and cut down all of his landscaping, as a crowd forms to watch the spectacle.
Critic Reviews for Big Business
Audience Reviews for Big Business
It's Christmas time in Southern California. There isn't a snowflake in sight, but Laurel and Hardy are going big in business as Christmas tree salesmen. James Finlayson, a character actor from many Laurel and Hardy silents is a particularly tough customer. The sight gags, pratfalls, and comic destruction keeps on building without letting up. Finlayson, the homeowner, wants the annoying salesmen off his stoop. Stan and Ollie, at first through little accidents and then through pure vengeance, are determined to show that they won't be rudely ignored. Comic genius with laughs throughout nearly the whole 20 minutes.
Byron Brubaker
Super Reviewer
Big Business Quotes
There are no approved quotes yet for this movie.
Discussion Forum
Discuss Big Business on our Movie forum!