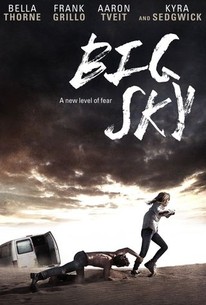 Big Sky
2015, Mystery & thriller/Drama, 1h 30m
11 Reviews
100+ Ratings
Where to watch
Rent/buy
Subscription
Rate And Review
Movie Info
Two masked gunmen attack a woman and her agoraphobic daughter as they travel by van to a treatment facility.
News & Interviews for Big Sky
Audience Reviews for Big Sky
I already wrote this review once and I, STUPIDLY, copy-pasted over it with another review. You can't believe how fucking angry and pissed off I am, since I had gotten out of all of my frustrations out that this movie caused in me. This will be a short and really fucking angry review, so I apologize if I fucking curse a lot, but I'm pissed right the fuck off at having to do all of this goddamn fucking review all over again. And I know I have myself to blame, but the undo button doesn't fucking work in Gmail, apparently, because I hit undo several times and it didn't go back to my old review. I'm so fucking pissed off. I'm more pissed off at myself for messing up a review that I felt, perfectly, captured my thoughts on what a piece of garbage this film was, but now all of that is lost. This will be a shorter and rawer review than normal, because I am literally about to pull what little hair I have let, I got it cut almost two months ago and it hasn't grown back fully yet. I'm not balding, at least not yet. So, what the fuck else can I fucking say about this fucking shitty movie. There's nothing going on in this move, like literally nothing, for over an hour. Actually, it's 70 minutes until something of some slight interest happens. Yes, really. SEVENTY fucking, goddamn minutes. Everything prior to that is watching Hazel walk (fucking slowly) and talk to herself, she's agoraphobic and she's forced to get help for her mother, who was shot, but lived, in an attack on the van that was taking them to a treatment center. Hazel is forced to confront her fears in the most dull and boring way possible, like nothing actually happens. She struggles with her past, she follows her strict routines (since I'm assuming she also has OCD) and it's just an absolute fucking chore to watch. It's so boring that I almost died. To counteract this, you get to see part of the film from the shooters' side. They kidnapped this woman in order to extort money from her rich father. But the problem is the fact that there's not really much to the shooters' side of the story either. It goes nowhere, it's literally there to stretch out a 30-minute script to a 90-minute movie. I have no idea why the shooters were even such a big part of the narrative, I mean outside of stretching out a thin script. I don't think I can say it enough, there's nothing fucking going on here. And when you do think that something is gonna happen, a climactic shootout, it actually happens off-screen. Everyone is either shot or killed off-camera in this shootout. All you get to see is Hazel covering her ears and cowering in fear. If you have a shitty, fucking terrible movie such as this one, taking stuff away from the audience that might actually be good is a terrible idea. I guess they thought they were being clever, like No Country For Old Men. The one exception is that No Country is masterpiece of scripting so the deaths that DO occur off-camera don't feel cheap. Not letting us watch this shootout took from us the one thing that may have made this seem like less of a waste of goddamn, fucking time. I'm sorry if this review is all over the place, I'm just still really fucking pissed off and I'm trying to get through this as fast as humanly possible. I guess the acting is fine, but I was so dreadfully angered by what I was seeing that I sort of even tuned out the actors. There's no way that this movie should have ever been 90-minutes long. The concept grows tiresome after thirty minutes and you've still got an hour or so left to go. I was originally gonna give this film one star, but I downgraded it in my original review, so I'm gonna downgrade it here as well. Like I'm certain that people are allowed their own opinions and they're allowed to like or dislike what they want. But the people that like this, what do they actually SEE in it? I'm not even trying to be snarky, I legitimately want to know what people. who thought this was good, saw in it. Even in movies I hate, I can go 'ok, I can see how someone might like X or Y aspect of this film', but I can't say the same here. There's nothing in this film that I excelled. There's nothing about this that I felt was even good. Hell, there's nothing about this that I felt was even just OK. Everything about this movie sucked. Fucking everything. This is 90 minutes of pure garbage and I wouldn't ever let my worst enemy watch this. Please don't watch this, don't make the same mistake I did. Your life will be better for it. If you do watch it and you hate it then, I told you so motherfucker. This film was pure garbage and I regret spending 90 minutes of my life, that I'll never get back, on this. I could have been doing something productive. Terrible, stay away from this at all costs.
See Details