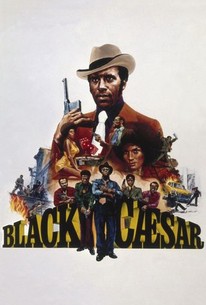 Black Caesar
1973, Crime/Drama, 1h 36m
14 Reviews
2,500+ Ratings
Where to watch
Rent/buy
Rent/buy
Rent/buy
Rate And Review
Movie Info
Growing up on the tough streets of Harlem, Tommy Gibbs (Fred Williamson) has his life made even harder by John McKinney (Art Lund), a crooked cop who breaks the boy's leg, crippling him for life. Drawing on his anger at the racism he faces on a daily basis, Tommy grows up to become the crime kingpin of Harlem. Now that he has the power, he aims to take down New York's Mafia bosses -- and also get bloody revenge on his nemesis, McKinney, no matter what the cost.
Audience Reviews for Black Caesar
This is inextricably linked to the blaxploitation era that it came out during, and it does fit into that area, but I feel like calling this a a blaxploitation film devalues it, or gives people the wrong ideas about it. This actually owes a lot more to the gangster pictures of the 1930s and 1940s which makes a lot of sense since this is apparently a black remake of Little Caesar. Even if it wasn't a remake, the influence is still quite valid thanks to the story structure and content. This isn't the typical cheesy black action movie like its contemporaries, but it is still a blak crime film, so that's why it is still slightly appropriate to lump it in as blaxploitation. It's on the higher end of that scale, but it's not a heavy intellectual piece either. But it is lots of fun, very entertaining, and quite well made. The camera work is good, the chase through midtown is fun and nicely executed, and it's just a hard film to dislike. Fred Williamson gives a strong lead performance in a variation of the rags to riches story. The story beats are familiar, but not completely conventional (a few flourishes prevent this). The rest of the cast is good too, but none of them are quite as good as Fred. James Brown's score is lots of fun and fits the film well, even though it's not one of his best, or one of the best soundtracks from the era. It's still pretty decent though. Give this one a chance. It's pretty good. My only real complaint is that it could have had a bit more substance or subtext. Then I could justify giving it the extra half star it feels like it was shooting for. There is one great scene towards the end that has some strong substance, and there are some other places throughout, but mostly it's a case of the film having a lot of great ideas and stuff, but not much of it is fully fleshed out or expanded upon.

This film is great. Immortalised by Public Enemy, Big Daddy Kane and Ice Cube on "Burn Hollywood, Burn" from the Fear Of A Black Planet LP, as soon as I heard Driving Miss Daisy being rejected for Black Caesar (listen to the track, you'll understand) I knew that I had to see this film. After all, if it's good for three of my favourite rap artists then it's good enough for me, right? So I saw a copy in Bedford while I was doing my teacher training course, and me and my mate Jai went back to the place we were staying at and watched it. I was spellbound - it is one of the best Black aimed films that I own! (I don't like the term 'Blaxploitation'. Have you noticed that there doesn't seem to be an official 'Whitesploitation' genre?) OOH ARR BOOOYEEEE, SPOILERS BEEEEELOW. Anyway, for those that are interested in a review of the film rather than my personal beliefs, the film concerns Tommy Gibbs, a Black gangster who gets a job for the local Mob after a nifty killing in a barber shop. (This comes after an excellent beginning that sees him assist in the murder of a gangster in the middle of a crowded street.) It charts his rise and fall... much in the manner of Scarface (either version). As Larry Cohen says in his DVD commentary, it's more of a Black version of the old 1940s gangster films than it is a straight up exploitation piece like Slaughter or Black Gunn. I won't go into much detail as I urge you all to watch it, but I might add a couple of trivial points: you should watch it back to back with the sequel - Hell Up In Harlem. If you do, though, bear in mind that the print that survives has a substantially different ending. I say no more. Watch this film - it is truly a classic.

I have yet to see Edward G. Robinson in Little Caesar, but after reading about that movie and other gangster films in the book We're in the Money: Depression American and Its Films, I can see where this pic gets its rise and fall storyline, its style, and its title.The acting is fairly solid. The low budget is evident occasionally, but not too often. I liked the family drama involved. The fact that this gangster Tommy Gibbs (Williamson) has a mother and father who seem like real people and who appear in more than one throw-away scene was a pleasant surprise. The fact that Tommy stumbles around after being shot for as long as he does was too ridiculous.

Fred Williamson is one of the best actors of the Blaxploitation era, and his performance here is on par with his other work. As a spin-off film, taking previously made plots and story hooks, and incorporating all-black casts for marketability, the film is a success, drawing nicely on mob and crime films of the era. As anything but Blaxploitation, the film adds nothing new to the easily-executed crime genre. Standard and forgettable when taken out of its niche.
See Details