BlacKkKlansman
(2018)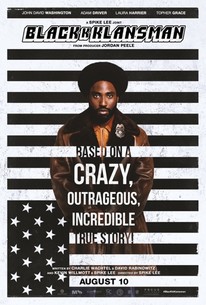 TOMATOMETER
AUDIENCE SCORE
Critic Consensus: BlacKkKlansman uses history to offer bitingly trenchant commentary on current events -- and brings out some of Spike Lee's hardest-hitting work in decades along the way.
Movie Info
From visionary filmmaker Spike Lee comes the incredible true story of an American hero. It's the early 1970s, and Ron Stallworth (John David Washington) is the first African-American detective to serve in the Colorado Springs Police Department. Determined to make a name for himself, Stallworth bravely sets out on a dangerous mission: infiltrate and expose the Ku Klux Klan. The young detective soon recruits a more seasoned colleague, Flip Zimmerman (Adam Driver), into the undercover investigation of a lifetime. Together, they team up to take down the extremist hate group as the organization aims to sanitize its violent rhetoric to appeal to the mainstream. Produced by the team behind the Academy-Award (R) winning Get Out.
News & Interviews for BlacKkKlansman
Critic Reviews for BlacKkKlansman
Audience Reviews for BlacKkKlansman
HOLY SHEET! - My Review of BLACKKKLANSMAN (4 Stars) Have you ever seen a movie that's simultaneously vital and overstated? Welcome to BLACKKKLANSMAN, Spike Lee's latest incendiary "treatise" on racism in America and his strongest film in many many years. Is it overwritten, over the top, and unsubtle? Absolutely. Yet it's also incredibly entertaining, sharp, and never boring for one second. BLACKKKLANSMAN tells the true story of Ron Stallworth (John David Washington), who in the early 1970s became the first black officer in the Colorado Springs Police Department and the only black member of the Ku Klux Klan. What? I'm so in! How could you not want to watch this crazy story unfold? One day, Stallworth chances upon a want ad for Klan members. He responds and sets up an in-person meeting, birthing an undercover sting operation. Obviously unable to attend the meeting himself, he pulls a Cyrano and enlists his white Jewish colleague, Flip Zimmerman (Adam Driver) to pretend to be him and expose the racist organization's dangerous plans. One of those plans involves bombing the local Black Student Union, headed by a woman Ron falls for named Patrice (Laura Harrier). Because he's undercover, Patrice doesn't know Ron's a cop, a profession she resents. It's complicated yet Lee and his co-writers Kevin Willmott, Charlie Wachtel, and David Rabinowitz do a wonderful job making the story incredibly easy to follow and a joy to watch. To contextualize the film, Lee introduces it with a fictional filming of a pro-segregation PSA narrated by Dr. Kennebrew Beauregard (Alec Baldwin). It's a little much, but so is this movie. Lee mythologizes Ron and Patrice, with their huge matching afros and overall gorgeousness, by sometimes shooting the film in the style of such 70s blaxploitation films as COFFEY, CLEOPATRA JONES and SUPERFLY. Look for that staggering shot in the hallway of Stallworth and Patrice brandishing pistols. If you have trouble picking up on the references, don't worry, because in Lee's inimitable style, he's gonna break down that fourth wall and slide in posters from those movies. Spike Lee, like Aerosmith, doesn't want you to miss a thing. He also rolls the dice and wins in a thrillingly intercut sequence in which the Klan inducts new members by cheering a screening of BIRTH OF A NATION while the Black Student Union listens to a story (told with perfect passion by none other than Harry Belafonte) about the lynching of a black man following the release of that racist epic. Does it feel like a college lecture? Sure. But Lee has clearly thought through how he wants to tell his story and what may be the most effective way to not only tell it but to effect real change in this country. This story could have been so easily been told as a by-the-numbers biopic. But I can only guess that Lee would have said, "We do it that way and people will say, 'That's nice' and then go eat their dinners". The way he tells BLACKKKLANSMAN cannot be denied or ignored. It's fantastically in your face and invites you to do something. In this particular time, it's clear that Lee wants to connect the dots of Ron's story to the current administration. Many references to "America First" and making this country "great again" peep into the screenplay in case you didn't get the hint. In the last act of the film, there's Trump himself fanning the flames of racism. Spike Lee wants Trump and his policies to be gone. No ifs, ands, or buts. Turbulent times demand a turbulent message. Washington, who is the son of Denzel, sounds and awful lot like his father and shares a certain command of the screen. He has a certain unknowable quality like his Dad, but he's also confident and turns this into an iconic role. It's tricky to achieve when so much of his presence in the film is so passive, but you won't soon forget him. When he imitates a white person's voice, it made me wish SORRY TO BOTHER YOU had not used real white voices, as this film gets real traction and tension from its attack on it. Eventually, Stallworth develops a phone relationship with David Duke (Topher Grace), then the Grand Wizard of the KKK, and it's a complex coupling. Duke comes across as the most sympathetic of all the horrible racists here, which makes him compelling to watch, and more enjoyable when he gets his comeuppance. He's a monster with some modicum of decorum, which makes him even scarier than the others in the peanut gallery of oafs, well played by the likes of Jasper Pääkkönen, Ashlie Atkinson, Paul Walter Hauser (so memorable in I, TONYA), and Ryan Eggold. On the police side of things, Adam Driver gives a terrific performance as a man who must spew racist epithets while hiding his Judaism from the Klan or risk certain death. So much of the tension this film rests in his very capable hands. In a film where voices play such a huge part, there's no mistaking whose brother plays one of Driver's fellow cops. It's Steve Buscemi's brother Michael, and you'll know it the second he speaks. Robert John Burke also does an excellent job as the Police Chief, a man who presents as your typical racist cop but the truth of it couldn't be more opposite. All told, BLACKKKLANSMAN is the least subtle movie on the planet and one of the most effective as a result. It's so crazy that it's a true story, and Lee wisely stays sharp to its meaning, never resorting to sappy storytelling. This is a biopic presented as primal scream and satire, because that's what the world needs to hear if they're gonna hear anything.
Glenn Gaylord
Super Reviewer
½
Two days from now, it will be a year since the Charlottesville "Unite the Right" rally where a white supremacist rammed his car into a group of counter protesters, killing one and injuring many others. By no small coincidence, Spike Lee decided to release his latest "joint" or as some strange audience member of the Alamo Drafthouse advance screening Q&A vehemently shouted before being escorted out of the building: "It's a Spike Lee 'movie'!" Not sure what that was about, but I think we all know that joint = movie in Spike Lee's esoteric lingo. The current racial divide is inextricably linked to the provocatively titled BlacKkKlansman, and a timely film it will certainly prove to be. This weekend, my own port of call will be experiencing a "Defend the Flag" rally populated by stars and bars-waving Russia supporters, thin blue line-adorning democrat haters, and other loud morons with large trucks. There will be counter protesters, and hatefulness exchanged "on both sides" ad nauseum. The only difference between the two factions being that the locals came to live in a place that is, at the very least, tolerant of alternate lifestyles, races, religions, genders, and sexual orientations, whereas many of the attendees of this rally will purposefully come here to show us the error of our ways by dragging the streets, looking for someone with turquoise hair to berate while 'Skynryd blares from their government subsidized Dodge Ram. So I sat down to watch this "based on true events" story of a black police officer in Colorado Springs who infiltrated the Ku Klux Klan on the merit of his charisma and aided by the naivete of David Duke's secret society of backwoods, minority-hating rednecks. As you would expect, he hardly had any complications in this endeavor because people who are particularly drawn towards nationalism and racial scapegoating happen to be, you guessed it, absolute morons. The whole thing plays out like a farce that's mostly populated by uncomfortable cringing. In the mean time, there is dialogue that signals specifically at things Donald Trump said, and the proceedings blatantly point to the Charlottesville tragedy. It is an uncomfortable experience and rightfully so. However, as much as Lee and the cast gush about how tonally concise the filming was at their Q&A screening, I think they missed the mark. The humor does not overcome how disturbing everything is, and the darkness and prescience of the thing relegates it to an horrifyingly foreboding cycle. There are definitely ironic moments where a cop-hater eats their words, a cop is forced to humanize a perpetrator, a KKK member is exposed to their racial obliviousness, and a Black radical is forced to confront the sustainability of their ideology. Many have said that it is a comeback for Lee. After all, it's novel territory explored many times before in his filmography. Quite frankly it's desensitizing after a while, and I hate to say that it's preaching to the choir. I appreciate what the film is saying, but I don't think that it will serve any purpose beyond it's topical relevance.
K Nife Churchkey
Super Reviewer
BlacKkKlansman Quotes
There are no approved quotes yet for this movie.