Blank Generation
(1979)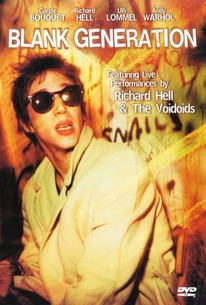 AUDIENCE SCORE
Critic Consensus: No consensus yet.
Movie Info
Richard Hell, one of the most important and influential figures in the late-'70s New York punk rock scene, stars in this gritty look at the underground art and music community, directed by German filmmaker Ulli Lommel. Billy (Hell) is an up-and-coming musician and poet who meets Nada (Carole Bouquet), a journalist from Europe who has come to New York to do a story on him. Billy and Nada soon fall into a troubled relationship, and Billy has to choose between his career and his feelings for Nada. Andy Warhol appears as himself (being interviewed by Nada); Richard Hell plays three songs with his band The Voidoids, shot live at the legendary club CBGB's.
Critic Reviews for Blank Generation
All Critics (3) | Fresh (1) | Rotten (2) | DVD (1)
Strives for Godardian insouciance, but winds up delivering Film School 101 pretension.
June 28, 2010 | Rating: 1.5/5
... seems to wanders around the streets of New York looking for a story and never finding one.
Audience Reviews for Blank Generation
What to say about a 78-minute film that feels a half-hour too long? "Blank Generation" (not to be confused with 1976's "The Blank Generation," an underground concert movie) is wholly incompetent as filmmaking. Director Ulli Lommel and his co-writers (including star Richard Hell) have no idea how to structure a narrative arc. What is exposition? How does one pace a story and build drama? These are esoteric questions for this bumbling crew. We are roughly thrown into the sleazy end of Manhattan, and eventually deduce that punk-rocker Hell is playing an autobiographical character named Billy. He has a volatile relationship with a gorgeous TV interviewer (Carole Bouquet). She is known as "Nada" (ooh, so nihilist). She regularly turns exasperated with Billy and kicks him out of her flat, but always takes him back. Except this time, she returns to her German ex-boyfriend Hoffritz (Lommel, who is no more impressive as an actor). What passes for suspense in this film is whether Billy and Nada will reconcile. Meanwhile, Billy is becoming disenchanted with rock 'n' roll, even though his handlers assure him that he's headed for platinum-level success. (Uh, have they heard his music?) Hell's idea of acting is to mischievously bulge his eyes. Bouquet is a stiff, and has a thick French accent that's barely decipherable. (Realistically, how could this woman get an English-language job on television?) The movie lurches from scene to scene of sloppy quarreling, inserting a music performance where possible. When Lommel wants to pull back and breathe, he drops in a reflective moment where Billy walks around or thinks about something while jazzy music plays on the soundtrack. He also has an obvious infatuation with Jean-Luc Godard, so he makes ridiculous attempts to add meta-commentary about cinema. It's a mess. The film's only virtues are outside its fiction. The elusive Andy Warhol flashes onscreen as an interview guest, though the build-up suggests his role will be much larger. He mumbles a variant on his "superstar" philosophy and is gone. There's also a fun cameo by avant-garde violinist Walter Steding (spelled "Steading" in the credits). Most importantly, we're snuck into legendary punk club CBGB's during its heyday and see thrilling onstage footage of Richard Hell & the Voidoids (songs: "Liars Beware," "Love Comes in Spurts" and of course "Blank Generation"). Hell is also shown recording vocals for "New Pleasure" in the studio. No doubt, this material is essential viewing for anyone interested in the New York punk scene. But if you fast-forward through everything else, you'll scarcely miss a thing.
Eric Broome
Super Reviewer
Blank Generation Quotes
There are no approved quotes yet for this movie.