Blonde Crazy
(1931)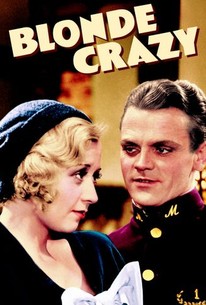 AUDIENCE SCORE
Critic Consensus: No consensus yet.
Movie Info
Blonde Crazy is the kind of amoral fun that disappeared from Hollywood after 1933, once the Production Code forced morality down the throats of the studios (and screenwriters) and audiences. James Cagney plays a bellhop -- with a machine-gun mouth and a randy-streak a mile wide -- who turns full-time con man once he meets Joan Blondell, a basically "nice" girl (but not too dedicated to it) who quickly falls into his scheming and scamming ways. Blondell plays the bait in a string of badger game come-ons with a string of "sugar daddies," all of whom deliver their spare cash to duck out of trouble. The two live well on the proceeds of their con game until they come to New York City, where sharpster Louis Calhern tricks Cagney out of their money with a phony counterfeit scam. The pair get even with a suspenseful and elaborate con aimed at him, but Blondell also reveals she's tired of running and scamming people, and the life she's leading. She goes off to marry upper-class stock-broker Ray Milland, who is stuck on her and knows nothing of her past or her work. It's then that Cagney discovers he really loves her, and he ends up giving up his con man life, wandering aimlessly as the world seemingly passes him by. But Blondell comes back after a year of marriage, desperate for help -- it seems her straight-arrow husband has gotten himself into a jam involving embezzlement. It takes Cagney's response, coupled with a double-cross and a police chase, to show her how much he loves her.
News & Interviews for Blonde Crazy
Critic Reviews for Blonde Crazy
Audience Reviews for Blonde Crazy
½
What's not to like about this movie? You have James Cagney as a smooth hotel bellhop, chasing women and intent on making it big. You have beautiful Joan Blondell standing up for herself, refusing to give in to his advances or to a hotel patron's, and not afraid to dish out a good slap across the face. You also have her taking a bath, for crying out loud! As well wear a very pretty wedding gown, although her marriage may not be to who you think. The film has the two of them improbably teaming up to dupe people out of their money, and the ways in which do this are sometimes quite clever. The little fish get swallowed up by bigger fish at one turn, and there are feints and double crosses along the way, prompting Cagney to famously say 'that dirty double-crossin' rat!' I'm not sure why there is criticism about the ending, but won't spoil it except to say it's perfectly balanced. Despite all the larceny, the movie is playful and it's a joy to watch the banter and chemistry between Cagney and Blondell. He playfully struts across the floor, calls her 'honn-ee', and is gentle with her after he's grabbed her and she tells him he's hurting her (which is nice particularly given the time!). I have no idea why the movie was called 'Blonde Crazy', except to say it may make you Blondell Crazy. :) And what a fantastic year 1931 was for James Cagney! 'The Public Enemy' appeared in the same year. This one would be a great introduction to films of this period - it's entertaining, and had all of the right touches.
Antonius Block
Super Reviewer
Routine Warners film is improved immeasurably by the great team of Cagney & Blondell.
½
the cutest couple this side of the 'thin man' series, cagney and blondell made six films together in the 30s. this one followed on the heels of cagney's breakout role in 'public enemy'. it's more of a comedic role for cagney and it's interesting to watch his developing screen persona, still a bit awkward in early scenes. cagney and blondell play grifters and partners in crime mostly running the 'badger game' against wealthy businessmen. blondell ultimately wants to settle down but finds cagney too irresponsible, instead falling for a wall street trader who turns out less respectable than expected (not much has changed). lots of naughty fun like only precode hollywood could turn out
Stella Dallas
Super Reviewer