Blossoms of Fire
(2006)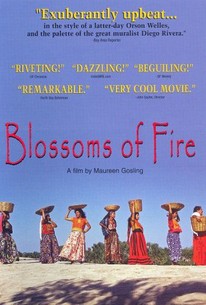 Movie Info
The town of Juchitan in Oaxaca, Mexico, was part of a matriarchal society centuries ago, but unlike most of the cities that surround it, Juchitan hasn't lost touch with this side of its past -- it's a city where women enjoy a degree of political, economic, and social equality unknown in most of the world. The city's dominant businesses are run by women, women take a leading role in city government and activist actions, and in most of the city's households, it's the women who handle the family's financial affairs. The documentary Blossoms of Fire takes a look at Juchitan's history and present-day notoriety, as well as the problems that have come with the city's increasingly high media profile. Blossoms of Fire was shown at the 2000 San Francisco Film Festival.
Critic Reviews for Blossoms of Fire
Audience Reviews for Blossoms of Fire
½
Blossoms of Fire is a dazzling film that celebrates the extraordinary lives of the Isthmus Zapotecs of southern Oaxaca, Mexico, a people with strong work ethic, fierce independence, and deep sense of pride in their culture. Visually appealing to watch as the women wear brightly colored embroidered finery to work every day. Their clothing is legendary in Juchitán, and depicted in paintings by artists like Miguel Covarrubias and Frida Kahlo. The film is also laced throughout with traditional music which works as a nice canvas to paint the movie on. The women here are powerful and intelligent. They handle the money, not the men. Not to say that the men do not work hard also, because the do, if not harder than the women. Learning about their rich culture excited me and made me want to visit. But then the film began to document the challenges many face in their work and their families and the globalization which is radically changing the way many live in this area. Some battles are maintaining their Zapotec culture and language. Blossoms of Fire was made over a period of ten years and it sure shows. The film is well put together and very interesting. The people are deeply involved in the politics and there was a whole section of the film dedicated to the discovery of their past, and why these people may be so active in government. Another part of the film was dedicated to gender roles and gender identification which to me seemed to go on longer than needed and wasn't really as interesting as the rest of the film. The most interesting theme was the dispute if there was a matriarchal hierarchy or not.
Dannielle Albert
Super Reviewer
Blossoms of Fire Quotes
There are no approved quotes yet for this movie.