Blue Skies
(1946)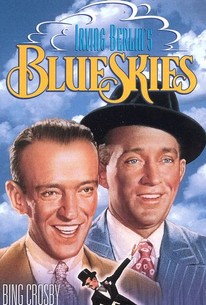 Movie Info
This Bing Crosby and Fred Astaire musical is packed with Irving Berlin songs; it also features a plot that centers on a radio star who was formerly a famous music hall dancer. Much of the tale is told in flashback and follows the rivalry between him and his former partner as they vie for the love the same woman. His partner won out and married the girl but couldn't succeed and they were unhappy. Soon after their daughter is born, the two break up and the divorced wife heads back for the radio star until her ex-husband intervenes and she returns to him, causing the star to begin drinking.
Critic Reviews for Blue Skies
Audience Reviews for Blue Skies
½
Bing and Fred are well matched in this ultra colorful musical that for something so bright and supposedly cheery touches on some very dark themes, divorce, alcoholism etc., although rather glancingly. Still Fred has some great dancing performances, the one where he is performing with a chorus line make up completely of mirror images of himself is particularly impressive. His voice and Bing's meld together very well and since the music is by Irving Berlin it makes for a very enjoyable experience indeed.
Crosby plays against his typical roles, and shows he can play more serious roles as well as the silly romantic types he's done previously. The movie also has Astaire who may or may not be the better choice for the woman in the movie. A very interesting story.
Blue Skies Quotes
There are no approved quotes yet for this movie.