Born to Defense
(1986)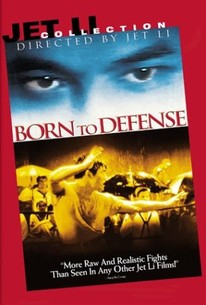 AUDIENCE SCORE
Critic Consensus: No consensus yet.
Movie Info
Produced in Mainland China by Sil-Metropole, this action picture marked the first directorial work by international martial arts icon Jet Li. He also stars in the film as a young kung-fu expert who fights back against the heartless American soldiers routinely bullying the Chinese populace in the days after World War II (needless to say, the film's viewpoint is slanted in an extremely anti-Western direction bordering on agitprop). First beating one loud-mouthed sailor in a kickboxing contest, the valiant Li gives his prize money to the poor and becomes a rickshaw driver. The Americans destroy his rickshaw and trick Li into allowing himself to become a sparring partner for their fighting practice, a setup engineered with the aim of repeatedly beating the cocky Chinaman to a bloody pulp. The climax of the setup occurs in a driving torrential rain, as he is pitted against the huge Navy captain, and their battle results in a large-scale melee as Li improbably defeats his towering foe. To punish his impudence, the Americans then murder two of Li's friends and frame him for the slayings, setting up the hero's inevitable jailbreak and retaliatory triumph. The film's structure is aimed at portraying all the Americans as vicious sadists, so Li spends a majority of the 92-minute running time being savagely beaten, only to repeatedly come back for more and emerge victorious. Zhao Erkang co-stars with Song Jia and the hulking Kurt Roland Pettersson, whom one might suspect would get the better of Li in a real fight. ~ Robert Firsching, Rovi
Critic Reviews for Born to Defense
There are no critic reviews yet for Born to Defense. Keep checking Rotten Tomatoes for updates!
Audience Reviews for Born to Defense
I'm giving this three stars, but I can't recommend it
unless
you can get a copy that isn't English dubbed. I don't know if there are DVD copies that offer Cantonese and/or Mandarin, but the one I received from Netflix offered English dubbing only. This is very disappointing. Fortunately, it's only the second time this has happened, but I really do wish that Netflix would say right up front that English dubbing is the only audio option; I would never have rented it.
It's not just Cantonese and/or Mandarin language films where this is a problem either. ANY non-English language film made should be offered in the original language. English dubbing always distorts the original and almost always dumbs it down.
I repeat, do NOT see this film UNLESS you can find it with the audio option of the original language.
Lanning : )
Super Reviewer
½
This film is directed by Jet Li himself trying to follow the legacy of Bruce Lee's older films where he tried to correct the soldiers.
½
Great film, kinda reminded me of Rocky a little...I don't know why.
Chosen 718
Super Reviewer
Born to Defense Quotes
There are no approved quotes yet for this movie.