The Boy Who Wanted to Be a Bear (Drengen der ville gøre det umulige)
(2003)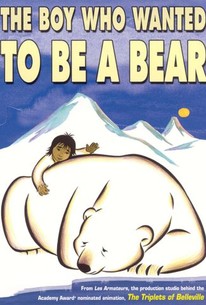 AUDIENCE SCORE
Critic Consensus: No consensus yet.
The Boy Who Wanted to Be a Bear (Drengen der ville gøre det umulige) Photos
Movie Info
Veteran Danish animator Jannik Hastrup transforms an obscure Tarzan-like Inuit fairy tale into a animated feature film with his 2002 children's tale entitled Drengen de ville vaere bjorn (The Boy Who Wanted To Be a Bear). Somewhere within the Arctic Circle, a pregnant polar bear narrowly escapes a pack of vicious wolves only to give birth to a stillborn cub. The bear's spouse, recognizing his mate's deep depression, sets out to find a replacement baby bear to lift the female bear's spirits -- only to fail in his quest. However, he does come across a newborn human infant, which he steals from the infant's parents and takes back to his mate. As the adult bears raise the human child to be a bear, the child's birth parents desperately search for their son in order to return him to their family. After some time, the child is recovered by his birth parents -- but the boy considers himself to be a bear and wishes to live his life as a bear. The Boy Who Wanted to Be a Bear was included in the program for a number of children-oriented film festivals throughout Europe and won a Special Mention from the jury at the 2002 Kinderfilmfest.
Critic Reviews for The Boy Who Wanted to Be a Bear (Drengen der ville gøre det umulige)
Audience Reviews for The Boy Who Wanted to Be a Bear (Drengen der ville gøre det umulige)
½
This is a beautifully artistic animated movie. Each scene is set on a beautifully understated water colored back drop. Unlike most modern animated stories this movie does not have a liberal axe to grind. The movie opens up on an innuit mother after she has delivered her own son in a small, isolated one room hut. The father returns an names the boy bear beacause he has a bear spirit. The mother and father polar bears are chased by wolves and the exhausted near term mother slips off a cliff into the water. Father polar bear dives in and saves mother, later she delivers a still born polar bear. The male polar bear tries to console the female polar bear and is initially unable. He slips into the hut and bonds with the infant. The woman finds the bear holding her infant and attacks the bear with a spear. The bear knocks her across the room unconscious with a swath of his huge paw. The boy is eventually returned to his human family several years later, but never accepts being human or human language. He wishes to become a polar bear and seeks mystical assistance. This movie effectively tugs on heart-strings right to a near breaking point. I'm glad I did not read any of the reviews before I watched it with my 3 and 4 year old sons. The MPAA would have cut the following scenes: -In the opening scene the innuit mother is holding her new born and you can see a slight indication of hair on herbare lower waist. She holds up her son and he has "Simpson-esque"genitalia. -Open on the mother polar bear after she has delivered her new born pup and she licks his muzzle to get him to breathe. After she realizes there is no hope, she lays him down and exits the den and buriers the entrance to protect him from scavengers. The reviews of this movie are parents who want to set there children down in front of the video babysitter while they yap on there cell phones.
Bill Cavros
Super Reviewer
The Boy Who Wanted to Be a Bear (Drengen der ville gøre det umulige) Quotes
There are no approved quotes yet for this movie.