Branded to Kill
(1967)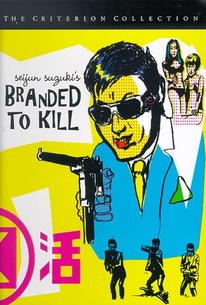 Movie Info
A delirious fever dream of a film, Seijun Suzuki's Branded to Kill takes the familiar elements of "B"-movie crime drama and transforms them into something outrageously bizarre and unexpectedly poetic. The film's story centers on Hanada, a.k.a. "No. 3 Killer," the third-best hit man in Japanese organized crime. Near the top of his game, his fortunes change when he encounters Misako, a mysterious, death-obsessed woman who brings him a particularly difficult mission. In a famous moment indicative of the film's eccentric sensibility, a butterfly lands on his gun's sight at the exact moment he pulls the trigger, causing him to miss the shot. This failure means that the killer becomes the target, and must run for his life from his former employers, and the mysterious "No. 1 Killer." While the film does contain some spectacular action sequences, the story is played less as a suspense thriller than as a surrealistic, psychosexual nightmare, filled with grotesque imagery and strange touches, such as Misako's use of a dead bird's corpse as a rear-view mirror decoration, and his almost fetishistic fixation with the smell of boiling rice. Indeed, the narrative is at times so fragmented that it is often difficult to decipher exactly what is happening; however, the striking black-and-white cinematography and avant-garde editing provide the film with a dream logic all its own. Now considered by many critics a maverick classic comparable to the works of Samuel Fuller or Jean-Luc Godard, the film was less well received at the time of its original release, with its utter strangeness leading to director Suzuki's firing from the Nikkatsu studio and the near destruction of his career. ~ Judd Blaise, Rovi
Critic Reviews for Branded to Kill
Audience Reviews for Branded to Kill
½
Hamada, the #3 killer with the rice-sniffing fetish, finds himself in trouble with the Organization after he falls in love with a woman with a death wish. BRANDED drips with 60s cool and is a near-perfect work of neo-surrealism in that, although the details often don't make sense, the big picture always does. Contains the memorable scenes of Hamada assassinating a man by shooting up a drainpipe and botching a hit when a butterfly lands on his gun barrel.
½
Nonsensical violence with some of the most poorly choreographed gunfights you'll ever see. A macabre train-wreck of a film that draws you in by appealing to that warped, illogical, action-craving part of your brain that everyone has and few acknowledge.
Randy Tippy
Super Reviewer
Not the weird for the sake of being weird movie that I expected but has many unconventional & absurd moments, Overall fun & funny
Branded to Kill Quotes
There are no approved quotes yet for this movie.