Breath Made Visible: Anna Halprin
(2010)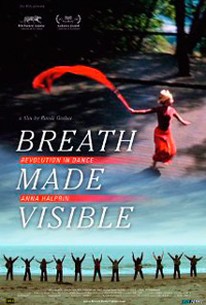 Breath Made Visible: Anna Halprin Photos
Movie Info
Synopsis: BREATH MADE VISIBLE is the first feature length film about the life and career of Anna Halprin, the American dance pioneer who has helped redefine our notion of modern art with her belief in dance's power to teach, heal, and transform at all ages of life. This cinematic portrait blends recent interviews with counterparts such as the late Merce Cunningham, archival footage, including her establishment of the first multiracial dance company in the U.S., and excerpts of current performances such as "Parades and Changes" at the Georges Pompidou Center in Paris, to weave a stunning, inspiring account of one of the most important cultural icons in modern dance. -- (C): Official Site
Critic Reviews for Breath Made Visible: Anna Halprin
Audience Reviews for Breath Made Visible: Anna Halprin
Magnificent! What an incredible woman. This film manages to capture why modern dance may be my favorite art form. I see it as using the body as the medium and space as the canvas in which the performer creates an abstraction of some aspect of life which the audience then is free to interpret in a very personal way. There were so many beautiful images in this documentary and at several times I found myself wiping away tears of pleasure at the sheer magnitude of the emotions being portrayed. I would love to own this one to remind myself that it is never too late, that one is never too old, to find beauty in nature and to express it through dance. I absolutely loved this and give it five stars!
Mark Abell
Super Reviewer
Beautiful, inspiring documentary about dance pioneer Anna Halprin, whose free-flowing, improvisational style both scandalized and revolutionized modern dance. Examines both her life and her sources of inspiration, "Breath Made Visible" is a haunting portrait of a singular and brilliant artist.
Matthew Lucas
Super Reviewer
Breath Made Visible: Anna Halprin Quotes
There are no approved quotes yet for this movie.