Bulldog Drummond's Revenge
(1937)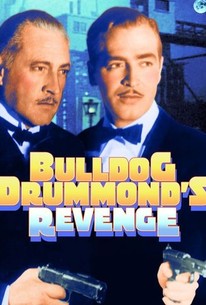 AUDIENCE SCORE
Critic Consensus: No consensus yet.
Bulldog Drummond's Revenge Photos
Movie Info
In this film, John Howard stars as Bulldog Drummond, a bon vivant ex-British officer. In this particular story, Drummond is hot on the trail of a master thief who has stolen the secret formula for an explosive.
Rating:
NR
Genre:
, , ,
Directed By:
Written By:
In Theaters:
On DVD:
Runtime:
Studio:
Criterion Collection
Audience Reviews for Bulldog Drummond's Revenge
½
A mediocre detective movie with a mediocre detective. All of Drummond's movies are the same, so it doesn't matter which one you see.
While preparing to travel to Switzerland with his friends Algy (Denny) and Colonel Nielsen (Barrymore), as well as his manservant Tenny (Clive), so he can finally marry the love of his life, Phyllis Clavering (Campbell), Captain Hugh Drummond (Howard) is drawn into a nefarious scheme by murderous froeign agents attempting to steal the only existing sample of a newly developed high explosive, Hexonite. Can Drummond and his friends round up the guilty parties without spoiling yet another set of wedding plans? "Bulldog Drummond's Revenge" is a fast-paced adventure tale that keeps things funny and lighthearted--almost in spite a sequence where our heroes are tossing about a suitcase that don't realize contains unstable explosives, and a series of ghoulish gags involving a severed arm. The regular cast-members provide their usual charming and witty performances. Clive shines particularly brightly in this outing, with Tenny's plain frustration with the antics of his "betters" giving rise to some very funny sarcasm. The film's main weak point is its reliance on far-fetched coincidences to both get started and keep the characters involved in the events. (I could accept that Drummond and pals just happen to be driving along the road where bad guys are executing Stage Two of their scheme... but it taxes my ability to suspend my disbelief that Drummond and Phyllis's train compartment just [i]happens[/i] to be next to the ones reserved by the bad guy. There's also the issue that Phyllis seems just a tiny bit too shrewish at times during the film; it's hardly Hugh's fault that a suitcase and a severed arm literally dropped out of the sky as he was returning from London. I recommend this film if you enjoy comedies and adventure flicks from the 1930s. I also recommend this film if you enjoy the "Indiana Jones" movies; the Bulldog Drummond series reminds me of those films on several levels. Bulldog Drummond's Revenge Starring: John Howard, E.E. Clive, Reginald Denny, John Barrymore, Louise Campbell, and Frank Puglia Director: Louis King
Steve Miller
This one isn't quite up with the other entries in the Bulldog Drummond series. The presence of John Barrymore helps considerably, but he is even a little bland in this one. Still, it is an interesting mystery with just the right touches of humor.
James Higgins
Bulldog Drummond's Revenge Quotes
There are no approved quotes yet for this movie.