Dreams of Dust (Reves de Poussiere) (Buried Dreams)
(2006)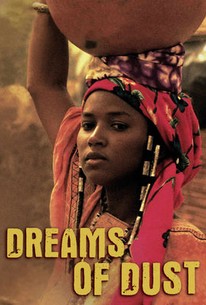 AUDIENCE SCORE
Critic Consensus: No consensus yet.
Dreams of Dust (Reves de Poussiere) (Buried Dreams) Photos
Movie Info
With his deeply cathartic and intransigent drama Dreams of Dust, Laurent Salgues takes an unflinching look at life in a hellish African gold-mining community. For countless hours, days and weeks on end, the employees of a mining camp burrow long tunnels into the sand in search of increasingly elusive nuggets. When one is found, economic circumstances improve for all; when the tunnels collapse, the workers lose their lives, new teams are reeled in, and the process begins anew. Yet Salgues unveils a core of dignity at the story's center, personified by two characters - the Nigerian farmer Mocktar, still reeling from a personal tragedy, who nevertheless demonstrates astonishing tenacity by climbing into the scorching tunnels each morning; and his female counterpart, the gorgeous Coumba, also reeling from a disaster - the sudden, unexpected death of most of her family, and her consequent need to raise her daughter on her own. Amid a difficult, threatening environment, these two quickly find soulmates and a ray of hope in one another. ~ Nathan Southern, Rovi
Critic Reviews for Dreams of Dust (Reves de Poussiere) (Buried Dreams)
All Critics (2) | Fresh (1) | Rotten (1)
This film will not be to everyone's taste... but there is a haunting quality to Mocktar's story that rewards close attention.
The occasional but abrupt shifts in Dicko's personality between nobility and immorality are disruptive and seemingly without catalyst - - the result of which suggests that in this case, subtlety should be sacrificed in favor of clarity.
Audience Reviews for Dreams of Dust (Reves de Poussiere) (Buried Dreams)
½
Thought-provoking! Finding hope to better future by working in a dagerous and nearly emptied gold mines reflects life on multi-level of things. The story brings about that the old mine worker took over the dead boss' business but operated the same way as the old tyrannical dead boss did was a interesting end to that part. I like it how it ends with just a little taste of happy ending but with much loss and perhaps some regrets. The cinematography, specially the paranomic shots and the abusive use of massive sorts of brownish color tones are impressive.
Dreams of Dust (Reves de Poussiere) (Buried Dreams) Quotes
There are no approved quotes yet for this movie.