Burnt Money
(2001)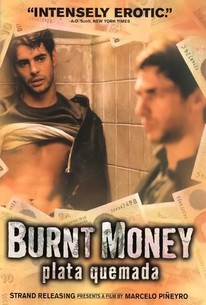 Movie Info
Love and betrayal complicate a robbery gone wrong in this offbeat crime thriller shot in Argentina. Angel (Eduardo Noriega) and El Nene (Leonardo Sbaraglia) are a pair of small-time criminals hired to take part in the robbery of an armored truck organized by mobsters Nando (Carlos Roffe) and Fontana (Ricardo Bartis), who working in cahoots with the driver, El Cuervo (Pablo Echarri). Angel and El Nene are also lovers, and when the robbery goes sour and Angel is shot by the police, El Nene is enraged and opens fire on the officers, turning the heist into a bloodbath. Angel and El Nene somehow escape and go into hiding, with El Nene attempting to nurse Angel back to health. As the couple tries to avoid detection in Uruguay, El Cuervo's moll, Vivi (Dolores Fonzi), tells the police of their whereabouts under threat of torture. Meanwhile, beginning to crack under cabin fever, Angel and El Nene slip into town to visit a carnival, where El Nene's head is unexpectedly turned by Giselle (Leticia Bredice), sparking murderous jealousy in Angel. Plata Quemada was adapted from a novel by Ricardo Piglia, which was inspired by a true story.
Critic Reviews for Burnt Money
Audience Reviews for Burnt Money
I'd thought it's some heist movie with more focus on sex (maybe the poster cover is to be blamed). However, the movie fared extremely well considering my low expectations. The only boring part was "The Voices", but I guess others would like it better in spiritual terms, and telling more about the character and whatnot. I'd not known about the movie more than stated above. I was taken aback when it mentioned, before the end credits start rolling, that it's based on real events, changing a few elements. Although the changes made were major, it couldn't have been this effective without them. Recommended this one which I went for very hesitantly (it was in my watch list for over a year). *P.S. Please mind that I've got used to using the fast forward button, and hence the movies are now less slower to me than they were previously. I'll supposedly not complain about the unwanted scenes so often, I guess.
familiar stranger
Super Reviewer
I wouldn't say it's the best film because it was dribbling. It's based on a true Argentinian robbery that took place in the 1960s. The story revolved around the relationship of the 2 gay thugs and how one of their heists affected their relationships. It has a visually powerful editing, Hot and erotic would summarise the whole film.
Sylvester Kuo
Super Reviewer
A movie about waiting. Doesn't sound too interesting, but when you have well written characters, their interactions become action. This is the story of a heist that goes a little awry. The gang must then hideout. This sounds easier than it is, as fingers begin to point at a setup, and a couple begin to drift apart. This whole time waiting becomes a time for the two protagonists to explore and experiment. It soon becomes obvious that money isn't the only thing at stake, but also pride and freedom, and not just the kind of freedom that involves keeping out of jail. The film, like the best crime thrillers, explodes into violence at a shocking speed. It emphasizes the realistic tone. I loved the 60's setting, and the music really captured the period. At times both frustrating and sad, it shows how humans will let their hearts take over, even if that means getting everyone killed/imprisoned and losing a lot of money in the process.
Luke Baldock
Super Reviewer
Burnt Money Quotes
There are no approved quotes yet for this movie.