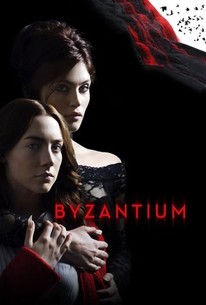 Byzantium
2012, Horror, 1h 58m
122 Reviews
10,000+ Ratings
What to know
critics consensus
Director Neil Jordan remains as expert as ever when it comes to setting a chilling mood, but Byzantium struggles to match its creepily alluring atmosphere with a suitably compelling story. Read critic reviews
Where to watch
Rent/buy
Rent/buy
Rate And Review
Movie Info
Mayhem follows when two female vampires (Gemma Arterton, Saoirse Ronan), on the run from a kindred group, take refuge at a seaside British community.
News & Interviews for Byzantium
Audience Reviews for Byzantium
I don't know where to start off this review really. I guess I should start off by saying that, realistically, speaking this is kind of an anti-Twilight. Perhaps that's not even fair to the movie, comparing it to such an awful film franchise. But a lot of people will, undoubtedly, compare the two when you get right down to the romance between Eleanor and Frank. But, thankfully, in this movie, they at least make the attempt to build a relationship between the two characters based on mutual attraction and not just because somebody sparkled in the sunlight. But the movie isn't really even focused on that, that's just an element of the narrative, not the main focus. While the narrative of the film may not have been incredible, I was actually fairly intrigued by the movie enough to keep me hooked and interested in what was going on. Eleanor (or Ella for short) and Clara have been on the run from these vampires who have attempted for over 200 years to hunt them down. The story is focuses on how Clara and Ella got to where they are right now. There are flashbacks that reveal a bit of Clara's story and how she came to be a vampire and that, to me, are the most interesting parts of the movie. Especially once you get to see that the vampire group is a brotherhood that not just anyone can join. You have to be of the proper caste in order to even be considered for this. And, of course, women cannot join. Nor can they create, which is when someone else is turned into a vampire. Clara 'creating' Ella is what made them have to go on the run in the first place. Again, I found this to be the most interesting parts of the entire movie. A problem with that, though, is that the movie focuses on Ella and Clara's escape from the brotherhood as they attempt to hunt them down to destroy them. But, and this is just me, I would have liked to have heard more about the brotherhood, how they formed and established the code of rules they live by. And I realize that I cannot complain about something the movie was never intended to include, but a lot of the modern day stuff, that's not related to the actual hunting down of Ella and Clara, isn't as interesting as the backstory the characters come from. And I'm not even saying that putting in a romantic element was a bad choice, because they did the best they could with Frank and Ella's character, but it's not something that I find very interesting. I also liked Ella granting death to those who truly wanted it, all old people in the film for example. I wish they would have done more with that, in exploring how it is that all the old people know what she is and what she can do for them, offering them a release from life as it were. I just feel they could have done so much more with these characters than what they did, so it's disappointing to see that. The modern stuff is essential, since Ella finding a way to tell someone the truth of her origins and what she is, actually does lead into where the narrative wants to go, but it could have taken a more interesting route to get there. And this is coming from someone who, overall, thought the movie was actually quite solid. Saoirse Ronan and Gemma Arterton are pretty damn great here and seeing their characters' backstory, again, is the best part of the entire flick. Seeing Clara do whatever is absolutely necessary to protect herself, and most importantly, Clara from being found out is executed effectively. Because, in many ways, while she is trying to protect Ella, keeping her closed off from the rest of the world also has some selfishness, due to fear of being found out. They find a good balance between motherly duty and selfishness in that regard. Visually speaking, the film sets a great mood and atmosphere right from the very start. So I can't complain much, but the narrative did have its flaws. And the third act itself had some very silly moments. I do think those flaws kept me from enjoying it more, but I still found this to be an enjoyable, if a bit loquacious, vampire horror film.

Under appreciated horror film. Beautifully shot with a compelling story and an interesting spin on the traditional vampire myth. Gemma Arterton and Saoirse Ronan create mysterious, empathetic characters whom you want to spend time with. A hidden gem.

Pretty good. I really liked this film. It's well-written and pretty well-acted, and I like the cinematography. Saorise Ronan really shines here--I think that she's honestly one of the most underrated actresses out there. Anyway, if you're looking for a good vampire movie, check this out.

The film's opening gives the feeling that it has a dark secret to be revealed, layer by layer, as it proceeds. Unfortunately, there's only disappointment in store here. With a generous heart, 1/10 for the promise it makes to be a chilling affair, but fails to tend to, thankfully, without trying too hard!!
See Details