C Me Dance
(2009)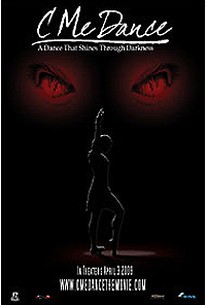 Movie Info
This feature film is about a teen-age girl "Sheri" who has trained her entire life to dance for the Pittsburgh Ballet. At age 17, this dream comes true. Her father has raised Sheri by himself since she was a toddler. Her mother was killed in a car accident; Sherri's father, Vince, is a hard working, God loving man and has instilled these values on Sheri and has supported her dream every step of the way. Things couldn't be much better for this little family. Until, one afternoon while Sheri is rehearsing with the ballet company, she gets dizzy and passes out. Sheri is rushed to the hospital and after a series of tests, they find that Sheri has a rare blood disease, and she is dying.
Critic Reviews for C Me Dance
Audience Reviews for C Me Dance
C Me Dance is a religious film that inadvertantly ends up insulting Christians and becomes creepy and sinister in its messages. The film seems to believe that anyone that doesn't blindly believe in Christianity is wrong and need to be converted against their will, which the main character is more than delighted to do to anyone she pleases. This film perverts the religion it pretends to follow in the worst possible ways. On top of being a horrific and downright scary propaganda film, it's also just a shitty film by itself since the story is garbage, the acting is horrible, the dialogue is even worse than the acting, the religious messages that are flaunted are disgusting and vile, the music is crap, and it's also horribly boring despite being less than an hour-and-a-half. I'm not even particularly religious and I still found this film to be insulting and moronic. This film doesn't work on any level and the only redeemable moments are some unintentionally funny moments, which don't happen often enough. Unless you enjoy feeling insulted repeatedly and also enjoy being bored consistently, do not see this film. No self-respecting Christian would ever give this piece of shit a pass. Honestly, fuck you, C Me Dance and fuck you hard. Oh well, it's just another bad religious film I guess. Not much new there.
Keenan Sullivan
Hands-down the absolute WORST piece of rubbish I've ever, ever seen. Just terrible. Stupid story, terrible acting, a physician whose part seemed to have been written by a 3rd grader. (Love it when a physician finds her terminal patient DEAD and the doctor screams and drops something. Wow.) Obviously, this is blatant proselytizing, which I always find offensive. If I could give it a negative score in the rating stars, I would give it about a -20. On that scale of 1-5. Sit down and watch the second hand on a clock. It will be a lot more interesting and you'll get a heck of a lot more out of it. This thing is guaranteed to put you OFF going to church for LIFE.
Alice Fusco
Recently I haven't been reviewing movies that aren't well know to the public, which brings to C Me Dance. A bad movie with a religious message that fails to be any good in what it's trying to do. Now normally I wouldn't go into detail about what happens in a movie, but I want to save your time. So after the opening title we're thrown into a chase scene for no reason and it's never explain as a woman is driving away from a truck driver following her. What I don't get is that the mother was actually stupid enough to turn around and crash into the truck following her. The baby survives despite me seeing the car catching on fire and then we see her grow up and dancing. Now readers, the performances in this movie are horrible and the actors are bland in there performances that it's hard to take this seriously. Now we're still in the beginning of this movie when we our main character is told by her doctor to stay off her feet and then it cuts to a mall montage. Then it cuts to a scene where we learn the main character has leukemia, somehow this girl develop advance leukemia in a day even though the doctor told her she healthy the previous day, wow this doctor is bad at her job. This movie has a serious case of being bipolar, it's happy one moment and then it's really depressing. Get this, somehow the girl develop powers that allows her that convert people into Christians just by touching them. Then she spends the entire movie trying to turn everyone into Christians because this movie believe in freedom of religion. Thankfully she dies at the end at the movie. To give you an idea how poorly this movie was written, here's a scene in a car and the dialogue goes something like this. Girl: Heh, wow Father: Yeah Girl: I mean, huh Father: Mmmm That's bad, but I will say the only enjoyable moment from the movie came from watching this with my friend Simon who utter the words "She taking away our will to look at pornography, damn you Sheri". Overall it's a waste of everyone times and should be ignored.
Caesar Mendez
Super Reviewer
C Me Dance Quotes
There are no approved quotes yet for this movie.
Discussion Forum
Discuss C Me Dance on our Movie forum!