Café
(2010)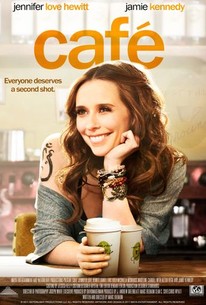 AUDIENCE SCORE
Critic Consensus: No consensus yet.
Movie Info
For the up-and-comers on Philadelphia's west side, West Philly Grounds is the place to be. There, Claire (Jennifer Love Hewitt) serves wisdom along with coffee and scones. The clientele comes to her with advice in love, life and careers. But even the neighborhood's favorite gathering place has a dark side. Jamie Kennedy, Alexa Vega, Madeline Carroll and Daniel Eric Gold co-star in writer-director Marc Erlbaum's slice-of-life drama.
Critic Reviews for Café
All Critics (2) | Top Critics (1) | Fresh (0) | Rotten (2)
The problem is that, although the staff's and customers' concerns may be of relative import to their characters, their issues largely come off as either mundane or clichéd - or both.
Los Angeles Times
Top Critic
Written by someone who one has to assume is a recent film school graduate who wrote plenty of tortured poetry in high school, this Cafe should have its beverage license revoked, no matter the lack of alcohol.

Audience Reviews for Café
This movie explains how we are all interconnected. Like Gandhi said, one person can make a difference and 3 can change the world.
Shannon Marquardt
Very interesting, melancholic, and somewhat uplifting movie with a few twists. It raises the questions of faith, sacrifice, and human nature. Almost religious in a "Matrix" kind of way. I thought it to be very original and worth watching again. A pretty intricate mix of storylines and themes occurring within the context of a Cafe in Philadelphia.
Mauricio Mallea
If you have the patients for it and don't mind a subtle film about character this is worth a watch. The premise left me feeling like it was "6th sense lite" which isn't a bad thing at all, in fact its the best part. More like a clever slight of hand parlor trick than a big stage magic performance but its no less effective because it is so clever. I found myself contemplating it the next day in the way most film can't get me to do. Its so subtle i bet lots of people wont get it, but when you do its a pretty neat revelation. The execution of the actors is fairly weak, but you know that. When Jennifer Love Hewitt is your anchor actor, but they all do fine enough for the weight of this clever little film.
Tungis Grumph
Café Quotes
There are no approved quotes yet for this movie.
Discussion Forum
Discuss Café on our Movie forum!