Catch-22
(1970)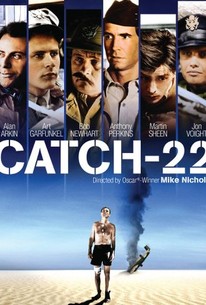 Movie Info
Sharply critical of the almost surreal bureaucracy of war, this scathing satire is based on Joseph Heller's novel. The story focuses on a group of Air Force pilots in the midst of WWII. The title refers to the twisted logic that makes up the pilots' standard military procedure.
News & Interviews for Catch-22
Critic Reviews for Catch-22
Audience Reviews for Catch-22
½
Very good antiwar dark comedy that is a bit underrated. Many reviews that I've read make this as one of the worst war films ever made. Although far from perfect, this is a very good film that is held together by a great cast of actors. This is one of those films that have a darkly humorous tone and sometimes you don't know when to laugh because of its sometimes serious content. Overall the film is pretty laid back in the sense that the jokes are good, and it evens out the serious aspect of the film. I feel that this is an underrated film and it definitely is much better than what people have said it was. The script is terrific and effective directing by Mike Nichols make this a terrific film worth seeing if you love the war film genre. For what it is, it manages to be entertaining, and fun and have an anti war message. Catch-22 is a well acted picture that balances satire and serious overtones perfectly. By the film's conclusion things become a tad more insane and the comic relief is stripped away and the dramatic angle of the plot take over. Catch --22 is a well crafted picture that resonates with its message. The cast is wonderful, and each brings something unique to the screen which makes this film standout as a terrific satire of war. With a great performance from its lead actor, this is a must see picture for those wanting to watch something different in the war genre. Lots of fun from start to finish, this a wonderful film despite its imperfections.
An terrific surrealist dark antiwar satire.
Lucas Martins
Super Reviewer
No better, no worse than the book itself.
Jennifer Xu
Super Reviewer
Catch-22 Quotes
| | |
| --- | --- |
| Nately: | You talk like a madman. |
| Old Man: | But I live like a sane one. I was a Fascist when Mussolini was on top. Now that he has been deposed, I am anti-Fascist. When the Germans were here, I was fanatically pro-German. Now I'm fanatically pro-America! You'll find no more loyal partisan in all of Italy than myself. |
| | |
| --- | --- |
| Nately's Girl: | When we go to America, Nately? |
| Old Man: | You will take her to America? Away from a healthy, active life? Away from good business opportunities? Away from her friends? |
| Nately: | Don't you have any principles? |
| Old Man: | Of course not. |
| Nately: | No morality? |
| Old Man: | I'm a very moral man. And Italy is a very moral country. That's why we will certainly come out on top again if we succeed in being defeated. |
| | |
| --- | --- |
| Nately: | What are you talking about? America's not going to be destroyed. |
| Old Man: | Never? |