Cats of Mirikitani
(2006)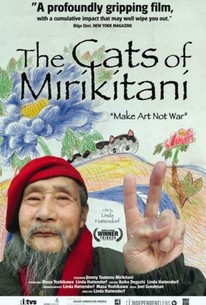 TOMATOMETER
AUDIENCE SCORE
Critic Consensus: The Cats of Mirikitani is a look at an elderly street artist that turns into a sincere and deeply moving account of human compassion and healing.
Cats of Mirikitani Photos
Movie Info
Jimmy Mirikitani is an 80-year-old Japanese-American artist living on the streets of Soho in the summer of 2001, selling his art to passersby. A chance meeting with neighboring filmmaker Linda Hattendorf leads to a friendship that changes both their lives when Hattendorf takes him in after the events of 9/11 leave the neighborhood enveloped in a cloud of toxic smoke. As Hattendorf leads Jimmy through the process of reclaiming his life, she films Jimmy as he paints and draws in her apartment, narrating his life story with humor, anger, and deep emotion. Born in the U.S. in 1920, Jimmy returned with his family to Hiroshima before World War II, and then escaped to America to avoid the Japanese military service. Consigned to the infamous internment camps for Japanese-Americans, Jimmy survived by immersing himself in his art. Losing most of his family in the war--including many to the atomic bomb in Hiroshima--leaves Jimmy embittered and alone in an alien country, with art his only means of survival. Discovering that Jimmy is related to Janice Mirikitani, Poet Laureate of San Francisco, is the first in a series of small miracles along the road to recovery. Jimmy's story comes full circle when he travels back to the West Coast to reconnect with a community of former internees at a healing pilgrimage to the site of his internment camp in Tule Lake.
Critic Reviews for Cats of Mirikitani
Audience Reviews for Cats of Mirikitani
Definitely not what I was expecting, although I'd only heard or read just a very little about this movie. While I expected the accomplished artist aspect, I had no idea that this would also be a very pointed examination of the WW II American internment of Japanese, most of them US citizens.
It took me a while to figure out that the "cats" are not just a nod to one of Mirikitani's seeming favorite subjects, but they are also a key to one of his worst internment memories, the death at Tule Lake Camp of a young boy who loved cats and would always ask Mirikitani to draw them for him. It wasn't until the reunion of internees at Tule Lake, when Mirikitani mentions that story of the boy's death again, that the true plaguing meaning of his constant return to cats as subject hits home.
And I must not fail to mention that a major theme here is that those people we see homeless on our streets are indeed people. Rather than ignore or avoid them, it might be wise to reach out to them. Hattendorf's reaching out to this particular homeless man served as a springboard to redemption, possibly both for Mirikitani and for Hattendorf.
This is a must-see documentary.
Lanning : )
Super Reviewer
Documentary about a tenacious survivor who never loses his indignation against America and how it mistreated him and the thousands of other citizens put into prison camps during World War II. While watching the television reports of post 9/11 hatred of Muslims, he recalls the effects of xenophobia (I never get to use that word) on his own life. Some things never change. No-frills from a filmmaker that smartly sees when your subject is interesting enough, you need only put the camera on him and let him do the rest. Jimmy Mirikitani has seen the best and the worst that history has had to offer, and he has come through it all with his love of art intact. Highly recommended.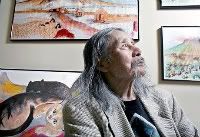 El Hombre Invisible
Super Reviewer
Cats of Mirikitani Quotes
There are no approved quotes yet for this movie.