Chaos Theory
(2008)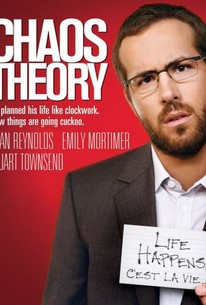 Movie Info
After living his life with clockwork precision, a man throws any and all caution to the wind in this freewheeling comedy drama. Frank Allen (Ryan Reynolds) is a successful motivational speaker and author whose book "The Five-Minute Efficiency Trainer" advises readers that strict organization and avoiding impulsive behavior is the key to success. Frank is married to Susan (Emily Mortimer), who has been his sweetheart since college, but while he's happy, she's beginning to have second thoughts -- she chose to be with Frank rather than his best friend, Buddy (Stuart Townsend), because of his sweet and gentle nature, but his new habit of carefully budgeting every moment of the day has squeezed most of the fun out of their lives. After a quarrel with Susan leaves Frank in a troubled state of mind, he's enthusiastically propositioned by a sexy woman at a self-help seminar (Sarah Chalke), and has to take a pregnant woman (Jocelyne Loewen) to the hospital when he nearly runs her over on the street. Susan learns about Frank's day and comes to the mistaken conclusion that he's been unfaithful to her with both women. Susan leaves him and Frank decides that his hyper-organized life is to blame for the collapse of his marriage. Suddenly, Frank figures it's time to give his id full reign -- he buys a motorcycle, starts fist fights in bars, sleeps with strange women, takes up streaking, and does nearly everything the old Frank would warn him against. ~ Mark Deming, Rovi
People Who Like this movie also like
Critic Reviews for Chaos Theory
Audience Reviews for Chaos Theory
Dead Angel
Super Reviewer
He planned his life like clockwork. Now things are going cuckoo. Good movie. Ryan Reynolds can do comedy and drama and in the same movie too, reminds me of Cary Grant. The story is quite bizarre but good and with a nice ending. The sort of climax of the movie is quite superb. You see great dramadic acting, and a clever script to boot. No, not a clever script, but a sincere one. Its writing makes this movie more of a comedic romance than a romantic comedy. If you don't understand that distinction, you will after watching this movie. Frank Allen (Ryan Reynolds) is a professional speaker who lectures on time management and he lives by example by perfectly maximizing his efficiency through scheduling and planning his own life down to the minute. One day when his wife Susan (Emily Mortimer) decides to set the alarm clock back 10 minutes, in hopes of giving her husband an extra ten minutes of time in the morning; she accomplishes the exact opposite. From missing the ferry to arriving late to his lecture on time management, Frank experiences an off day. While driving home, he sees a pregnant woman in need of help of getting to the hospital and he decides to offer the stranger a lift. At the hospital, Frank is asked to fill out some paper work, and not thinking much about his situation, he puts his own information down and the nurses at the hospital misunderstand and assume he is the father. The following morning, before Frank arrives home, a nurse from the hospital calls attempting to reach him and his wife answers the phone. The nurse, in trying to contact who she thought was the father, leads Susan to believe it is Frank's baby and she presupposes he is cheating on her and leading a double life. When Frank arrives home, he is unable to clear up the misunderstanding and Susan throws him out of the house. Susan then refuses to speak to him, and only allows him to see his daughter after school. In an attempt to prove his honesty to his wife by demonstrating that it is not his baby, Frank sees a doctor and receives the news that he was never able to reproduce to begin with, since he has Klinefelter's syndrome. A few days later, the stranger brings her baby to the Allens' house in hopes of thanking him for his kindness, only to find his wife at home. After the stranger introduces herself and her baby to Susan, she clears up the misunderstanding, but the damage is done since Frank now knows that their child is not really his. The tides change dramatically as Frank realizes that he was the one in the relationship who was faithful, and goes through a withdrawal as he tries to comprehend how his daughter could not be his and how wrong his life turned out when he believed that he has always stayed straight and narrow. After giving a life-changing speech about living on whim at his own time management lecture, he decides to live his life based on chance from that moment on. He starts his reformed outlook on life with the simple idea of possibility and randomness by making his decision based shuffling three index cards with written options and choosing one at chance. Through his journey, he learns more about love, friendship, faith, hope and life than he ever imagined.
He planned his life like clockwork. Now things are going cuckoo.
Chaos Theory Quotes
| | |
| --- | --- |
| Frank Allen: | Do you know what doctors call riders that don't wear a helmet? |
| Buddy Endrow: | A hotel? |
| Frank Allen: | Organ donors. |
| | |
| --- | --- |
| Jesse Allen: | Give it to me straight: virginal bride or slut in white? |
Discussion Forum
Discuss Chaos Theory on our Movie forum!