Chasing Amy
(1997)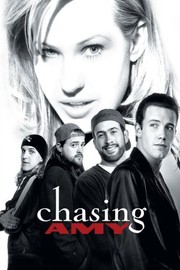 TOMATOMETER
AUDIENCE SCORE
Critic Consensus: Chasing Amy explores gender roles, sexual mores, and the limits of friendship with a mixture of sensitivity, raw honesty, and director/screenwriter Kevin Smith's signature raunchy humor.
Chasing Amy Trailers & Photos
Movie Info
After a pair of films about hipster slackers, the work of writer-director Kevin Smith matured and gained critical respect with this low budget, independent comedy-drama about love, sex and the fine line between the two. Ben Affleck stars as Holden McNeil, a New Jersey comic book writer who is roommates with his best friend and professional partner, artist Banky Edwards (Jason Lee). Their hit comic book series, "Bluntman and Chronic," is loosely patterned after a pair of acquaintances, Jay (Jason Mewes) and Silent Bob (played by Smith), two characters already familiar as supporting players in several Smith films. Into Holden's life comes Alyssa Jones (Joey Lauren Adams), a lesbian and fellow comic book creator who quickly becomes a close friend, although Holden is powerfully attracted to her. Eventually, Alyssa realizes that she is attracted to Holden as well and they begin a physical relationship, much to the consternation of Banky, whose ire over losing his best friend to a lesbian seems to border on romantic jealousy. After he learns something about Alyssa's sexual past, however, Holden's immature response to his new knowledge destroys both his romance with Alyssa and his friendship with Banky. Chasing Amy (1997) was the third film in what Smith referred to as his "New Jersey series," films set at least partly in the Garden State and featuring the Jay and Silent Bob characters. ~ Karl Williams, Rovi
more
Rating:
R (for strong, graphic sex-related dialogue, language, sexuality and drug content)
Genre:

Comedy

,

Romance

Directed By:

Kevin Smith

Written By:
Kevin Smith
In Theaters:
Apr 4, 1997 Wide
On DVD:
Jun 1, 2000
Runtime:
Cast
News & Interviews for Chasing Amy
Critic Reviews for Chasing Amy
Audience Reviews for Chasing Amy
Joey Lauren Adams got on my nerves with her grating voice, but even so it is hard not to fall in love with this adorable and funny movie (the dialogue is simply wonderful) as Kevin Smith translates in such a surprisingly heartfelt and sincere way the complications of being in love.
Chasing Amy is very good comedy film from Kevin Smith and is the third film featuring Jay & Silent Bob. Smith uses all the usual tricks that have made his films unique. The cast here are great, and the plot is funny and quirky and totally original. Kevin Smith's films tend to explore ideas which would normally be passed up by a different director. Each film he has made has been funny and memorable. Chasing Amy is one of three romantic comedies that Smith would direct and he makes his rom coms very differently than the traditional rom coms, which are predictable and full of clichés. The film is funny and the cast have good on-screen chemistry, especially Jason Lee and Ben Affleck. I don't normally enjoy rom coms, but Chasing Amy is quite different. Smith layers the script with his traditional humor, which adds so much to the film. The film has much more drama than Smith's previous works, and it shows his maturity as a filmmaker while retaining the same things that we expect from a Kevin Smith film. The film has just the right amount of seriousness and humor to make this worth seeing and if you love Kevin Smith films, then check this one out. Chasing has its imperfections, but it has heart and is entertaining from start to finish. This is an underrated film and Chasing Amy of one of the best films from Smith and is an overlooked gem in his filmography. The film has a well written script that delivers the laughs and charm. Kevin Smith is a good filmmaker, and he has a knack to create original films that are very different than most comedies. Chasing Amy is a great film, and is a different type of Kevin Smith film.
Chasing Amy Quotes
Holden McNeil: There's a world of fucking difference between typical high school sex and two guys at once! They fucking used you?
Alyssa Jones: I used them! You don't think I would've let it happen if I hadn't wanted it to, do you?! I was an experimental girl, for Christ's sake! Maybe you knew early on that your track was from point 'a' to 'b' - but unlike you I wasn't given a fucking map at birth, so I tried it all! That is until we - that's you and I - got together, and suddenly, I was sated. Can't you take some fucking comfort in that? You turned out to be all I was ever looking for - the missing piece in the big fucking puzzle! [tries to calm down] Look I'm sorry I let you believe that you were the only guy I'd ever been with. I should've been more honest. But it seemed to make you feel special in a way that me telling you over an over again how incredible you are would never get across. [she touches his face. He pulls back. She stares at him, hurt and pissed] Do you mean to tell me that - while you have zero problem with me sleeping with half the women in New York City - you have some sort of half-assed, mealy-mouthed objection to pubescent antics, that took place almost ten years ago? What the fuck is your problem?
Holden McNeil: [eyes are downcast. Alyssa waits for a response] I want us to be something that we can't.
Alyssa Jones: And what's that?
Holden McNeil: A normal couple.
Holden McNeil: What are you doing?
Alyssa Jones: Get back in the car and get out of here.
Holden McNeil: Your'e going to hitch to New York?
Alyssa Jones: Y'ep.
Holden McNeil: Aren't you at least going to comment?
Alyssa Jones: Here's my comment fuck you.
Holden McNeil: Why?
Alyssa Jones: That was so unfair. You know how unfair that was.
Holden McNeil: It's unfair that I'm in love with you?
Alyssa Jones: No, it's unfortunate that you're in love with me. It's unfair that you felt the fucking need to unburden your soul about it. Do you remember for a fucking second who I am?
Holden McNeil: So? People change.
Alyssa Jones: Oh, it's that simple? You fall in love with me and want a romantic relationship, nothing changes for you with the exception of feeling hunky-dorey all the time. But what about-me? It's not that simple, is it? I can't just get into a relationship with you without throwing my whole fucking world into upheaval!
Holden McNeil: But that's every relationship! There's always going to be a period of adjustment.
Alyssa Jones: Period of adjustment?!? [hitting him] THERE'S NO 'PERIOD OF ADJUSTMENT' HOLDEN! I'M FUCKING GAY! THAT'S WHO I AM! AND YOU ASSUME I CAN TURN THAT AROUND JUST BECAUSE YOU'VE GOT A CRUSH?!?
Holden McNeil: if this is a crush... then I don't know if I could take the real thing if it ever happens.
Alyssa Jones: Go home, Holden.
Holden McNeil: I love you.
Alyssa Jones: [beat] You love me.
Holden McNeil: I love you. And not in a friendly way, although I think we're great friends. And not in a misplaced affection, puppy-dog way, although I'm sure that's what you'll call it. And it's not because you're unattainable. I love you. Very simple, very truly. You're the epitome of every attribute and quality I've ever looked for in another person. I know you think of me as just a friend and crossing that line is the furthest thing from an option you'd ever consider. But I can't do this any longer. I can't stand next to you without wanting to hold you. I can't look into your eyes without feeling that longing you only read about in trashy romance novels. I can't talk to you without wanting to express my love for everything you are. I know this will probably queer our friendship - no pun intended - but I had to say it, because I've never felt this before, and I like who I am because of it. And if bringing it to light means we can't hang out anymore, then that hurts me. But I couldn't allow another day to go by without getting it out there, regardless of the outcome, which by the look on your face is to be the inevitable shoot-down. And I'll accept that But I know some part of you is hesitating for a moment, and if there is a moment of hesitation, that means you feel something too. All I ask is that you not suppress that - at least for ten minutes - and try to dwell in it before you dismiss it. There isn't another soul on this fucking planet who's ever made me the person I am when I'm with you, and I would risk this friendship for the chance to take it to the next plateau. Because it's there between you and me. You can't deny that. And even if we never speak again after tonight, please know that I'm forever changed because of you and what you've meant to me, which - while I do appreciate it - I'd never need a painting of birds bought at a diner to remind me of.
Silent Bob: Bitch, what you don't know about me I could just about squeeze in the Grand fuckin' Canyon. Did you know I always wanted to be a dancer in Vegas? No? Bet you didn't even know that shit did you?
Discussion Forum
Discuss Chasing Amy on our Movie forum!
News & Features