Chasing Ghosts
(2005)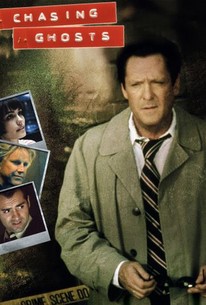 AUDIENCE SCORE
Critic Consensus: No consensus yet.
Movie Info
When a weary detective on the verge of retirement begins receiving ominous messages from a sadistic serial killer determined to stir up the past, the stage is set for a deadly confrontation in an all-star crime drama featuring Michael Madsen, Gary Busey, Meat Loaf, and Michael Rooker. Years on the job have shown Detective Harrison (Michael Madsen) more horror than most normal folks would experience in two lifetimes. As Detective Harrison prepares to pass the baton on to the up-and-coming rookie poised to take his place in the police force, the murder of numerous underworld heavies leave the befuddled veteran and his younger protégé grasping for clues. When the killer begins taunting Detective Harrison with a variety of stealthy clues and grisly photographs left behind at the crime scenes, an unsolved case from the past threatens to bring the sins of the past out of the shadows and into the light of the present.
Rating:
R (for violence, language and brief drug use)
Genre:
,
Directed By:
Written By:
In Theaters:
On DVD:
Runtime:
Studio:
Sony Pictures Entertainment
Audience Reviews for Chasing Ghosts
Solid performances from Michael Madsen, Shannyn Sossoman, and even Meatloaf can't make up for a weak plot, poorly written dialog and unbelievably bad acting on the part of Corey Large. The casting department must've been asleep at the wheel when they cast him as a major role. Although many of his lines and scenes with him are poorly written, his horrible acting makes one feel as if they're watching a grade school play. He is not alone however, as many of the supporting roles are acted equally as bad. Couple that with low budget stunts and painfully poor special effects, and the end result is a movie most people would be better off not seeing at all. Many of the scenes are long, boring, drawn out and irrelevant to the plot. Uninteresting characters and a "plot twist" that basically does everything short of having a narrorator tell the audience exactly what is going to happen leaves the audience disconnected and ultimately uninterested in the outcome of the movie. My only consolation is that I didn't pay to see the film in theatres as it was direct to DVD, as I would have surely walked out, the first time I've ever felt the need to do so. Save your money and yout time on this one. If I had more thumbs they'd be down on "Chasing Ghosts".
j m
½
Chasing Ghosts Starring: Michael Madsen, Corey Large, Shannyn Sossamon, Tom Wright, and Michael Rooker Director: Kyle Dean Jackson A week before he is to retire, corrupt homicide detective Kevin Harrison (Madsen) finds himself in pursuit of a serial killer while trying to train his replacement (Large). It soon becomes apparent that all the murders are somehow tied to the mysterious death of Harrison's old partner (Rooker), an officer who after death was largely blamed for Harrison's crimes. Will all of Harrison's past come back to haunt him? "Chasing Ghosts" is a low budget crime thriller that should be required viewing for anyone thinking about making their own movie. The film is so well put-together that is a more successful effort than similar films with ten times its budget. Unfortunately, it also suffers from the same problems that many films with ten times its budget have, namely a "twist" that is so obvious that any member of the audience who is paying the least bit of attention will have figured out at least half an hour before "the big revelation." Aside from that obvious script issue, the film is pretty decent. The characters are mostly stock, but the actors portraying them do good jobs; the mystery aspect of the film is well structured, even if the plot of the "criminal mastermind in the shadows" is a bit like a Rube Goldberg Machine [as in a bit over-complicated]; and even the slightly sideways redemption story that peeks out from the innards of the film is nice and believable. There is a slight problem with some of the lighting and camera-work, though. For reasons I don't quite get, most outdoor scenes are shot with a tinge to them--not so much that it looks like a bad attempt at passing day-for-night in the shots, but enough to make it seem like the scene is happening during the early dawn or late twilight. In the scenes where it is indeed early dawn, the coloring makes sense, but there are others where it doesn't. (This is a minor complaint, though. Overall, the camera work and lighting is very competent and serves the drama of the film well.) "Chasing Ghosts" is probably worth seeing for huge fans of the "surprise revelation" genre, or if you want to see an example of what can be done by truly talented filmmakers who understand how to make the most of a limited budget. Anyone else can safely pass on it.
Steve Miller
Generally interesting crime thriller, overlong and too muddled at times. But some interesting twists, overall good performances. It's okay, had more potential than what it achieved.
James Higgins
Chasing Ghosts Quotes
There are no approved quotes yet for this movie.
Discussion Forum
Discuss Chasing Ghosts on our Movie forum!