Christopher Robin
(2018)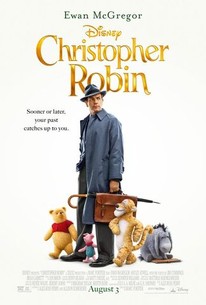 TOMATOMETER
AUDIENCE SCORE
Critic Consensus: Christopher Robin may not equal A.A. Milne's stories -- or their animated Disney adaptations -- but it should prove sweet enough for audiences seeking a little childhood magic.
Movie Info
In the heatwarming live action adventure "Disney's Christopher Robin," the young boy who loved embarking on adventures in the Hundred Acre Wood with a band of spirited and loveable stuffed animals, has grown up and lost his way. Now it is up to his childhood friends to venture into our world and help Christopher Robin remember the loving and playful boy who is still inside.
News & Interviews for Christopher Robin
Critic Reviews for Christopher Robin
Audience Reviews for Christopher Robin
There is a moment within the opening credits of Disney's latest attempt to turn one of their classic animated properties into a live action ATM that hints at the devastating nature of our lives. It is fleeting and it, if only for a moment, says all it needs to say about what this movie aspires to be. As it passes though and as it becomes more and more apparent the film doesn't really know how to accomplish what its initial ambitions intended the film instead becomes all the more broad and all the more safe. This moment is one in which a young Christopher Robin (Orton O'Brien) comes to the Hundred Acre Wood for the last time. He is going off to boarding school, you see, and won't be able to visit his friends as often anymore. His friends being his stuffed toys, which include that silly ol' bear named Pooh (voice of Jim Cummings), the perpetually petrified Piglet (voice of Nick Mohammed), the ever-exuberant Tigger (also Cummings), the steadily gloomy Eeyore (voice of Brad Garrett), as well as Rabbit (Peter Capaldi), Kanga (Sophie Okonedo), her little Roo (Sara Sheen), and of course Owl (Toby Jones). Robin's toys know change is afoot and are throwing Christopher a farewell party of sorts in which treats-ranging from pots of honey to carrots, of course-are served and where even Eeyore is moved to make a speech. It is in light of the depressed donkey's surprisingly apathetic speech that Rabbit reacts to accordingly that we hear Cummings as Winnie the Pooh whisper a soft, "I would've liked for it to go on a bit longer." And just as fleeting as the moment itself is it simultaneously felt as if I'd been knocked over by a half ton barrage of scattered thoughts and emotions that reminded me just how fleeting time itself is. It's the one thing we can't get more of no matter how much wealth we possess or the circumstance of our lives; we all have a finite amount of time and Christopher Robin, in its first five minutes, exists to remind you that your children will grow and change just as you did and even though you feel you're different, that you're special, and that despite knowing it was a fact of life all along you were never really meant to grow old and become like your parents before you. Time truly waits for no man. This affected me to the point I wondered why I was sitting in a theater watching a movie when I should have been at home snuggling my three year-old daughter. In short, that would have been the more entertaining option of the two and certainly the more fulfilling one as it is only in this aforementioned moment that Christopher Robin was able to pull any genuine feeling out of me. And might I remind you, this is a movie wholly designed to pull on the heart and nostalgia strings. One moment. read the whole review at www.reviewsfromabed.com
Philip Price
Super Reviewer
½
The stories of Winnie the Pooh are basically the pinnacle of nostalgic things for me, they were an important cornerstone of my childhood. Because of that, I really can't be impartial on this one. Yes, Christopher Robin is in a lot of ways a story we are familiar with. It's kind of like Hook, with a childhood character now grown up and rediscovering his childhood essence, but it's played much more simply in tone and that it seems to take place within the canon of the Disney version of these stories adds an extra pull to it. It's been a long time since I visited these characters, so as Christopher was reconnecting with their world so was I, and it was an odd almost meta experience. Seeing him remember things like winds-day and pooh sticks was emotional and almost eerie. Early on in the film when we see him as a child in his last day in the Hundred Acre Woods him and Pooh have a conversation that is almost word for word the same conversation they had at the end of The Many Adventures of Winnie the Pooh. There's connective moments like this that will make Pooh fans attach to this movie and it's themes in stronger ways than non-Pooh fans, but godamn if it didn't work for me. It gave me chills and emotions in extraordinary ways that made its themes even stronger for me. It isn't exactly an original concept, hang onto your childhood and don't work so hard. Not exactly anything we haven't seen before. But by the connective tissue of something from your childhood it gives the theme a power that is all the more effective. Not only that, the movie is just unbelievably funny. I realized watching it how much of my sense of humor was defined by Winnie the Pooh. Much of the humor in here comes from what I like to call Pooh philosophy. It's his unique way of looking at the world, a very simple way. Honestly most of the movie is just Christopher Robin and Pooh, and it works, because they play off each other so well with Pooh trying to understand Christopher's new adult world and Christopher struggling to explain it. It's hilarious, but also kind of deep, and that's exactly what Pooh humor always was. So much of the writing in here is stuff where I thought to myself "was that in a Pooh story?" and then said "no, but it very easily could have been," and that's a credit to the writers. The movie is beautiful, and moves at a leisurely pace. It's never really in a rush, but at the same time I was never bored by it. There's no sense of urgency, just a charming little story that it's going to spend 90 minutes telling you, and that's what Pooh is. My one complaint is that it does go a bit into that 90s cliché of the dad who works too much, and I always hated that because it never considered factors like providing for his family or other employees relying on him or just real world factors. In the climax of the movie they start to fall a bit too hard into that, but they pull back just enough into reality and hint at those realities that I was a bit more forgiving, but I am still getting sick of that trope. Bottom line, the movie is charming, beautiful, funny, and full of the feels. I can't say how well it will work for non-Pooh fans, but for someone who's childhood was defined by these stories, it worked perfectly.
Michael Malan
Super Reviewer
Disney has always been known to hold on to the material that made them famous in the first place. Lately, their trend has been taking their classic properties and turning them into live-action versions to showcase them for the younger audiences of today. My only issue with that is the fact that it would get pretty tiresome if every single classic was directly translated to the big screen in live-action form. The Jungle Book and Cinderella are two examples of having this plan work very well, but doing the same thing for every film just doesn't show any kind of originality whatsoever. Thankfully, movies like Christopher Robin are made once in a while, because it feels like a breath of fresh air. This latest live-action Disney film is easily going to be one of my most memorable theatre experience of the year, simply due to the fact that I was grinning from ear to ear from start to finish. Here's why I recommend Christopher Robin to all ages. After growing apart from Pooh and his friends, Christopher Robin eventually grows up, moves to London, England, and shares his life with his wife and young daughter. Having a stressful daily routine and a family who seems to think he's forgetting them, Pooh visits him and sends him on a journey of self-discovery and one of the true meanings of life. Not only is this a great eye-opener for parents, but also a fun movie for kids to feast their eyes on when each of the classic characters are bumbling around on-screen. Not only is it great for all ages, but it's the first real kid's movie in a while that's directed at adults (at least to me). Where the movie may earn gripes from some viewers is within its overall execution. It's a family friendly movie so it's not going to get too serious, so some viewers are definitely going to find this movie to be as predictable as they come. Yes, that's easily the weakest portion of this film as a whole. You know where it's going to lead, and it eventually does just that and not too much more; but what's wrong with a simplistic feel-good story if it's done in a special way? If a simple film can be made as an effective piece of storytelling, then I truly believe it deserves to be in discussion with movies that have far more complex narratives. Christopher Robin is filled with lines of dialogue that warmed my heart on numerous occasions, and I just found myself either smiling or tearing up throughout the majority of the film. It brings back childhood memories for those who are now adults, while also providing a deep enough story for kids to latch onto without losing interest. The tone of the movie may slightly bore a younger audience, but it's easily made up for by the fun nature in which the classic characters are displayed on-screen. Overall, Christopher Robin takes the best parts of its source material, updates it for a modern age, and does so by also taking the time to tell a heartwarming and compelling narrative. This is a very enjoyable movie for all ages, and I feel that it may be shown to kids in the foreseeable future, whether at school or at home. The life lessons here are truly something special. Yes, the plot is utterly simple, and it goes in every direction you think it will, but the fact that it's tastefully executed was enough to get me on board. It's nothing groundbreaking, but I do highly recommend checking out Christopher Robin.
Christopher Robin Quotes
There are no approved quotes yet for this movie.