Chupacabra Terror
(2005)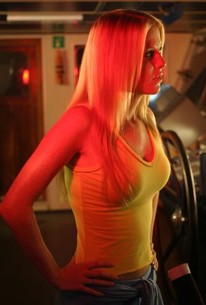 AUDIENCE SCORE
Critic Consensus: No consensus yet.
Movie Info
In this made-for-cable horror story, Dr. Peña (Giancarlo Esposito) is a scientist with a passionate interest in the chupacabra, a South American creature similar to the North American Bigfoot or Yeti. While many believe the chupacabra is a myth, Peña is convinced the beast truly exists, and he sets out to find it. Peña succeeds in capturing a living chupacabra in the Caribbean, but discovers the animal is stronger and more dangerous than he expected -- it's strong, has a violent nature, and can withstand tremendous punishment. Nevertheless, Peña goes ahead with his plan to take the chupacabra to the United States, and sneaks the beast on board an ocean liner headed for America. As bad luck would have it, the monster escapes from its cage, and begins killing the passengers at a feverish pace. Now Randolph (John Rhys-Davies), the ship's captain, is seemingly the only one who can subdue the chupacabra and bring the ship home.
Critic Reviews for Chupacabra Terror
All Critics (2) | Fresh (0) | Rotten (2)
The sets look like plaster, the actors look like accountants, and the monster looks like the 9th place winner at your local Halloween Ball.
And then there's the chupacabra itself, which couldn't possibly look more like a guy in a rubber suit.
Audience Reviews for Chupacabra Terror
I loved how machine gun fire did little or no damage, but the two things that affected him were a teenage girl doing tae bo and the same girl bashing him in the head with a frying pan. This one wasn't funny it was so stupid.
Stephen Morrison
Super Reviewer
Chupacabra Terror Quotes
There are no approved quotes yet for this movie.