The Clearing
(2004)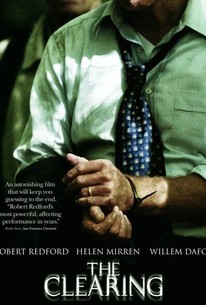 Movie Info
Dutch film producer Pieter Jan Brugge makes his directorial debut with the dramatic thriller The Clearing. Affluent executive Wayne Hayes (Robert Redford) and his lovely wife, Eileen (Helen Mirren), live in a beautiful home in Pittsburg. One day, Wayne is kidnapped by disgruntled employee Arnold Mack (Willem Dafoe). He is then held for ransom in a forest. Meanwhile, Eileen is forced to reckon with the FBI agents as they negotiate with the kidnapper. Alessandro Nivola and Melissa Sagemiller star as the two grown Hayes children. Matt Craven plays FBI Agent Ray Fuller. The Clearing premiered at the Sundance Film Festival in 2004.
People Who Like this movie also like
Critic Reviews for The Clearing
Audience Reviews for The Clearing
Lacking car chases, explosions, gun shoot-outs, a sex scene, and most of the typical hallmarks of most of the typical thrillers, what remains is the slow dawning realization that one may not get the typical summation that one has been trained to look for. The actors seem happy to present that as well, a refreshing change from the typical, and perhaps a look at the reality of these situations. Excellent work.
Kevin M. Williams
Super Reviewer
½
Much better than I'd anticipated, not the biggest fan of Helen Mirran nor Robert Redford and yet both gave enjoyable performances.
Lady D'arbanville
Super Reviewer
This little 2004 drama is a slow-burn thriller about a successful businessman (Redford) who is one day kidnapped and held for ransom by a former employee (Dafoe). Once word gets out about the abduction, it is up to the businessman's wife (Mirren) to deliver the ransom. The ideas going on, and the way they are executed is kinda alrighr, and this had the potential to be really good. However, the film ultimately faisl to deliver a product that is as compelling as it could be. The film is edited in a way to make it seem that all the events are happening simultaneously, when in reality this isn't quite the case. I kinda liked this idea, but with the way it plays out, I think the film would have ultimately been far better and stronger had they just told it in a more straightforward fashion, with greater emphasis on motives, characters, and that kind of thing. All of that is there, but it seems a little weak. Maybe I should just try to overlook that though since this was Pieter Jan Brugge's first film as a director. There are things I liked about it. The casting is good, and they give pretty decent performances. The film has a good atmosphere and tone, and there are some parts that are really suspenseful and done quite well. I was never bored watching the film, yet it left me a little unfulfilled and wondering why the people behind the film made the decisions they did. Despite it's problems and the fact that it ultimately isn't a successful movie, you can tell they tried to make it good. The psychological elements are nice, too. I don't really ultimately recommend it, yet I still kinda liked it, or at least some it, or the concepts. I wantd this to be good, and even though it's not, it does come fairly close.
Chris Weber
Super Reviewer
The Clearing Quotes
There are no approved quotes yet for this movie.