The Color of Pomegranates (Sayat Nova )
(1980)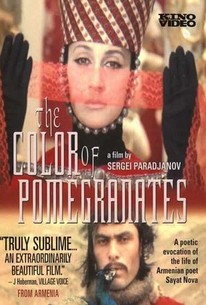 The Color of Pomegranates (Sayat Nova ) Photos
Movie Info
Director Sergei Paradjanov made a practice of making highly idiosyncratic films based on the folklore of regions in the former Soviet Union. In 1969 he made this film, based in part on the life of the 18th-century Armenian poet, Sayat Nova ('The King of Song'). Renowned for his writings and his religious lifestyle, Sayat Nova became a martyr when he grew too influential for the authorities to control. Seriously out of favor with Soviet governmental bureaucrats, this film was not seen in the international arena until 1977. Then, The Color of Pomegranates was widely acclaimed for its poetic and non-narrative blending of historical and biographical Armenian imagery. ~ Clarke Fountain, Rovi
Critic Reviews for The Color of Pomegranates (Sayat Nova )
Audience Reviews for The Color of Pomegranates (Sayat Nova )
It was interesting... that's the least I can say for the beginning! And now I'll explain to you how I felt after watching this movie... My sister once went to the butcher (somewhere on the Balkan) and the guy sold her "white kidneys" - of course my sister never asked why these "kidneys" were called "white" thinking that maybe the difference is in the colour only... Well "the white kidneys" is the term used in that part of the world for "balls". That's how my sister got "balls" thinking that she paid for kidneys! My feeling after watching this film was almost identical to hers when she discovered the truth about the kidneys! Very colourful, very bold, and at the same time very static. The biggest action was when the headless chooks were struggling over the burning candles almost at the end of the movie. Everything rest was like from the old photo shoots. Maybe some people like movies with no acting and where actors are tools only, but I am not one of them... my first impression of the actors was that they must be a bunch of mentally disturbed individuals! Don't ask for chemistry here - impossible to achieve in this type of movie where everyone and everything is thrown together: Christians, Muslims, Pagans... their beliefs and customs mixed with llamas and lions... in Armenia!
This Soviet era film was hidden for a decade but finally was seen in the late seventies. Quite frankly, I have no idea what is going on half the time but the images are captivating.
John Ballantine
Super Reviewer
I'm sorry art world. I get it...but maybe you're just not for me.
The Color of Pomegranates (Sayat Nova ) Quotes
There are no approved quotes yet for this movie.