Come Drink With Me (Da zui xia)
(1966)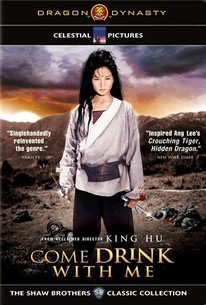 AUDIENCE SCORE
Critic Consensus: No consensus yet.
Come Drink With Me (Da zui xia) Photos
Movie Info
A mysterious swordswoman named Golden Swallow is sent to rescue a young official who has been kidnapped. Aided by Drunken Cat, a kung-fu master disguised as a beggar. She hatches a daring plan to assault the corrupt monastery where the official is being held.
Critic Reviews for Come Drink With Me (Da zui xia)
Audience Reviews for Come Drink With Me (Da zui xia)
½
[font=Century Gothic]"Come Drink with Me" starts with a ruthless gang of bandits attempting and failing to rescue their leader who has been condemned to death. At least they escape with Zhang(Wong Chung), the son of the local governor, who they are planning to exchange for their leader in five days' time. If that does not work, they will kill him, figuring they will at least break even.(Come to think of it, they are not doing so badly on their own.) Soon enough, Golden Swallow(Cheng Pei-Pei) shows up at the local tavern to negotiate and demonstrate that she can play with the big boys...[/font] [font=Century Gothic]While not as polished as some of its younger cousins(the editing leaves something to be desired), "Come Drink with Me" is still an enjoyable action movie whose best scenes are the ones where the characters size each other up. On the minus side, as cool a cat as Drunken Cat(Yueh Hua) is, the movie becomes less interesting the more he takes center stage along with unnecessary subplots and mysticism.(Hey, I was prepared to overlook the musical numbers.) It would have been best to have left him as a people's champion for a third way between the government and the brigands. [/font]
½
With singing heroes, cross-dressing heroines, narcissistic villains, and fantastical action choreographed like dance, the film launched a new wave of Hong Kong filmmaking and you can feel its' influence in everything from Bruce Lee in the 1970s to Jackie Chan's Drunken Master to the Tsui Hark new wave of high energy, special effects adventures in the 80's. Cheng Pei Pei is stunning in the role as Golden Swallow, a young woman on a mission to free her brother who has been taken hostage by a group of ruthless bandits, while retaining poise, elegance and coolness when delivering some deadly kung fu action. Rent this before considering Tarantino's remake coming soon....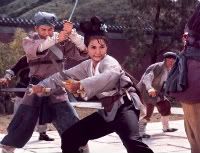 El Hombre Invisible
Super Reviewer
After watching A Touch of Zen, I decided to check out a few more classic martial arts movies. I decided to check in on a DVD series called Dragon Dynasty, having been impressed by the work they did on the copy of John Woo's Hard Boiled I picked up a while back. Looking through their catalog I noticed they had a movie from King Hu, director of Touch of Zen. The movie's inelegant title didn't excite me, but I decided to check it out anyway. I was quite surprised to find myself almost enjoying them movie more than Touch of Zen, even if Zen is ultimately a better work. I thought the choreography here was probably better, and the funky editing was used a lot more sparingly. The story lacks Touch of Zen's epic scope and depth, but in its simplicity it was probably easier to follow. It was also very interesting to see Cheng Pei-Pei forty years before she played the villain in Crouching Tiger, Hidden dragon. I was baffled by a few things, namely a point late in the film where they start shooting some kind of arousal spray out their hands, I have no idea what the hell that was supposed to be. Also there's a strange reversal in the last five minutes where a male character suddenly turns into a hero instead of Pei-Pei. This wasn't the achievement Zen was, but as a lean little action movie it was probably more enjoyable. Also, I was right Dragon Dynasty, the visual quality of this DVD was a million times better than the Touch of Zen DVD.
Come Drink With Me (Da zui xia) Quotes
There are no approved quotes yet for this movie.