Come See the Paradise
(1990)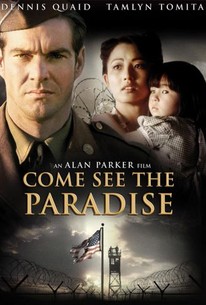 Come See the Paradise Photos
Movie Info
One of the few American films to deal with the tragic story of the internment of Asian-Americans during World War II, Come See the Paradise opens in the late 1930s, as Jack McGurn (Dennis Quaid) is working as a union organizer in New York City. Jack finds himself on the wrong side of the law after he gets involved in an ill-advised bombing of a scab shop, and he flees to Los Angeles, where Hiroshi Kawamura (Sab Shimono) gives him a job as a projectionist in L.A.'s Little Tokyo. Jack soon meets Hiroshi's beautiful daughter Lily (Tamlyn Tomita) and it's love at first sight. Jack and Lily decide to get married, but Hiroshi opposes the match and California law prevents mixed-race couples from obtaining a marriage license. Jack and Lily move to Seattle, where they are wed and soon have a daughter. Jack, however, begins working with the union again, which puts a strain on their marriage; Lily takes their child and returns to Los Angeles. But before long the United States enters World War II, and the Kawamura family is sent (along with all other Americans of Japanese descent living in California) to an internment camp, as it is believed they will become traitors against America if left to their own devices. Jack, ironically, is drafted into the Army and soon goes AWOL to return to California, where he tries to find his wife in the camps. ~ Mark Deming, Rovi
Critic Reviews for Come See the Paradise
Audience Reviews for Come See the Paradise
½
A good drama portraying racial tensions Japanese Americans, and their families, faced during World War II. Really good movie. Early days of Dennis Quaid....some really great acting here on his part.
Cynthia S.
Super Reviewer
One of my all-time favorite movies!! Love this movie with Quaid and Tomita! Beautiful tale of love and devotion, a fascinating story of the strength of family ties. FANTASTIC!!
Come See the Paradise Quotes
There are no approved quotes yet for this movie.