Commitment
(2013)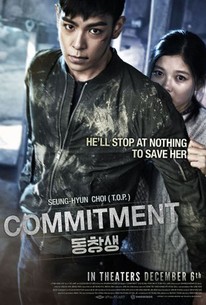 Movie Info
After his father's botched espionage mission, North Korean Myung-hoon and his young sister Hye-in are sent to a labor prison camp. In order to save his sister's life, Myung-hoon volunteers to become a spy and infiltrates the South as a teenage defector. While attending high school in the South, he meets another girl named Hye-in, and rescues her when she comes under attack. South Korean Intelligence soon discover Myung-hoon's activities and begin tracking him, all the while his own government sends a vicious assassin to eliminate him. (c) Well Go USA
Critic Reviews for Commitment
Audience Reviews for Commitment
This is pretty much tantamount to South Korean propaganda showing the North Koreans and its government to be vindictive, ruthless, and completely uncaring of the spies that carry out missions for them. I'm sure that that's all true, but what government ISN'T like that? Granted that is if they're caught. If you're caught spying for the U.S, or any country, that country will most likely cut ties with you and completely deny every allegation and that you were never part of their organization. That's just the way the world works. It sucks, and I don't like it one bit, but that's just how it is. So this idea that the South Korean government is perfect and values the lives of those performing these espionage missions is bullshit. But, of course, you really couldn't expect anything other than a black and white story out of this. The North Koreans will always be the bad guys. And, again, I'm not a fan of N. Korea and its oppressive regime, but it'd make for a more interesting story if it wasn't so much us vs them and it was a much more thoughtful and complex story exploring the differences, its similarities, etc. There's so many things you can do, but no. I shouldn't have expected any different really. But, to be honest, this film isn't bad. I suppose I should rephrase that, it's a little goofy and it's actually fun in a B-movie way, laughing at the absurdity and the complete seriousness of it all. There's drama, suspense, romance, espionage, action...but there's no comedy. The film has it all BUT comedy. Well, there's comedy there, but it's definitely unintentional. The utterly serious and official tone of the film makes everything that occurs in it silly and absurd. It's not as convoluted and contrived as a lot of espionage movies are, but this one is easier to follow than the most. I never felt lost or confused when watching the film, and that's something I have to give them credit for. Yes, the whole thing is a little too preposterous to be real, but at least it's not confusing to follow, at least in my view. And what would a Korean movie be without melodrama with a sad score in the background to make tragic shit seem even more hokey. You can see where the film is gonna end when the main character, shortly before the climax of the film, promises his sister, now safe and sound, that he'll come back for her. Whenever a main character makes a promise near the end of the film then the chances that something bad is about to happen are about 90%. And this is no exception. The melodrama isn't as bad as it could've been. I've seen movies where the treacly sentimentality takes up 40-45 minutes of an actual movie. And that's just unacceptable to me. It's far more tolerable here. Another positive is the film's cinematography, I think it looks topnotch in some shots, particularly during the last minutes of the film and it's solidly directed, but there's nothing revolutionary here. Acting's decent but, again, nothing outstanding or really worth seeing. I may have given this a poor rating, but I didn't mind watching it at all, it's got some unintentional comedy and the events are so preposterous that I found myself laughing at the film's expense. Not great, it could've been much, much worse.
Jesse Ortega
Super Reviewer
Commitment Quotes
There are no approved quotes yet for this movie.
Discussion Forum
Discuss Commitment on our Movie forum!