Cotton Comes to Harlem
(1970)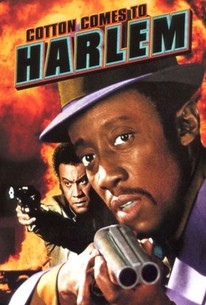 AUDIENCE SCORE
Critic Consensus: No consensus yet.
Cotton Comes to Harlem Photos
Movie Info
Ossie Davis makes his directorial debut a smashing success in the action crime comedy Cotton Comes To Harlem. Coffin Ed Johnson (Raymond St. Jacques) and Grave Digger Jones (Godfrey Cambridge) are neighborhood plainclothes cops who keep tabs on the residents and keep a lid on trouble. The Reverend Deke O'Malley (Calvin Lockhart) is a crooked, money-laundering preacher under suspicion by the detectives. Over $87,000 in cash is hidden in a bale of cotton, money Deke has bilked from the trusting community. Redd Foxx and Cleavon Little also appear in this popular feature that spawned future sequels of lesser quality.
News & Interviews for Cotton Comes to Harlem
Critic Reviews for Cotton Comes to Harlem
All Critics (4) | Fresh (4) | Rotten (0) | DVD (1)
Harlem is mostly about the ride, with chases and barbed banter urging the movie along, keeping the whole endeavor light on its toes.
One of the earliest and best Blaxploitation films.
November 5, 2002 | Rating: 4/5
Audience Reviews for Cotton Comes to Harlem
½
Although often considered a forerunner of "blaxploitation", I wouldn't disagree with you if you called this a full on blaxploitation film. Stylistically it doesn't fit, but it is an almost exclusively black cast, black crew, and deals with black themes, so therefore, it is related. However, this isn't some campy stereotypical film that more than likely hinders black progress instead of helps it. Instead, this is a hilarious film that is many things: comedy, crime film, satire, and buddy picture. There is tons of humor here, and, while I wasn't laughing all the time, it is quite funny. Most of the humor is of the slapstick vartiety, but some of it comes from wordplay, visuals, and situations, which can sometimes be dry in natiure. This is the story of two unconventional detectives who try to catch a man who is pushing a "back to Africa" trip. In reality, that man is a fake, a huxster, and the two detectives have to try to catch hi and show the world who he really iis. It surprised me that Ossie Davis directed this, because I didn't expect this type of film from hi based on my knowledge of his latter day resume. This is a great film though, It is quite funny, and fillled with substance and subtext, It's not overly preachy, but it's pretty obvious that this film has a message and isn't devoid of something more meaningful. This isn't a campy blaxploitation film. In watching it though, one can see that this represents a high water mark for black films made for black people by black people. The only thing it really exploits is stuff that black people want to see. The subject matter is funny, and a bit surreal, because really, who thinks of cotton when they think of Harlem? It's an integral part of the film however, so it is necessary. No matter who you are, there is bound to be something in here for everyone. This is a great film, and a true lost classic. Bravo Ossie, bravo.
Chris Weber
Super Reviewer
One of the very earliest blaxploitation films (1970), and not the best either (the books are better). S'ok.
½
This is one of the funniest movies of the early 1970's. The story, the acting as well as the characters helped to make this a great film. In many ways this film was a preview of things to come due to the fact that the very next year with the premier of Shaft, the era of the "blaxploitation" film would begin. Also, you have to wonder if the team who created the Lethal Weapon series were somewhat inspired by this due to the fact that characters of Gravedigger and Coffin are somewhat reminiscent of Briggs and Murtaugh from that series. However, the thing that really made this fun was the brief appearance of Redd Foxx playing a character that was not dissimilar from the character that would earn him his biggest fame, Fred Sanford. This is definitely a lost classic.
Cassandra Maples
Super Reviewer
Cotton Comes to Harlem Quotes
There are no approved quotes yet for this movie.