Cremaster 1
(1996)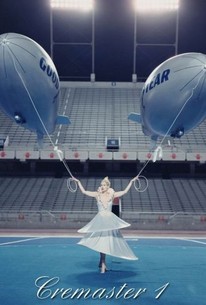 Movie Info
Artist Matthew Barney continues his elaborate, symbolic mediation on sex, death, and creation with this 40-minute audiovisual installment of his much-acclaimed Cremaster cycle. Labeled the first in the series although it was originally exhibited second (in 1995, following the inaugural Cremaster 4), Cremaster 1 is set in the sculptor/filmmaker's hometown of Boise, ID, on the football field of Bronco Stadium. There, a flock of stewardesses and showgirls converge, forming intricate dance/movement patterns both on the field and in the sky, their actions dictated by Goodyear (Marti Domination), a goddess hovering overhead, simultaneously occupying two Goodyear blimps. While surveying her subjects, each version of Goodyear arranges grapes in a formation on the floor, which are then carried out by the dancers below.
Critic Reviews for Cremaster 1
Audience Reviews for Cremaster 1
Yeah....I felt as though I was watching an exhibit at a contemporary art gallery..except that instead of nodding my appreciation after a few minutes, I was compelled to watch it for 40. I can understand the symbolism but why such a long journey?
John Ballantine
Super Reviewer
Cremaster 1 Quotes
There are no approved quotes yet for this movie.