Critters 4: They're Invading Your Space
(1991)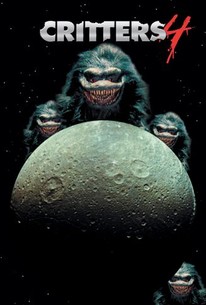 AUDIENCE SCORE
Critic Consensus: No consensus yet.
Critters 4: They're Invading Your Space Photos
Movie Info
Sent directly to video, the fourth installment in the Critters series picks up the action with Charlie (Don Keith Opper) about to destroy the last of the critter eggs. A holographic apparition warns him, however, that every species must be preserved by galactic law; the eggs are transported into deep space, and Charlie is accidentally carted along, beginning yet another freaky adventure.
Critic Reviews for Critters 4: They're Invading Your Space
Audience Reviews for Critters 4: They're Invading Your Space
im pretty sure Brad Dourif is still trying hard to not be known as "the guy from critters 4" by appearing in such contemporary classics as "drop dead sexy" and "National Lampoons Lucky virgins 8"
Coxxie Mild Sauce
Super Reviewer
Critters 4 is the worst critters film in the franchise. The third one was a fun, mediocre ride, but this film is pretty pointless. The story is poorly crafted even by Critters film standards. The film could have been a fine end to an amusing series, but it ends up being a failure. The first two Critters films were great fun, and the third was amusing as well, but this last one feels like they scrapped the bottom of the barrel, and didn't focus on building on a fun. I'm sure that given a rewrite, Critters 4 could have been a fine conclusion. But theres just too many things going wrong on screen. I personally feel they should've just made three Critters films and left it at that. The idea is interesting, but the story is poorly crafted and you lose interest after a while. this is a film that should have been made only if the story was strong enough. What you have with Critters 4 is a film that tries to take off , but doesn't because of a bad script that recycles the same old tired ideas.
Surprisingly dull and boring finale to the series which see's the Critters - all two of them - riot in a space station in the year 2045. Things just got a little too serious, there was no fun factor and very little mayhem. Brad Dourif won't look back on this as one of his high points.
Critters 4: They're Invading Your Space Quotes
There are no approved quotes yet for this movie.