Cronos
(1994)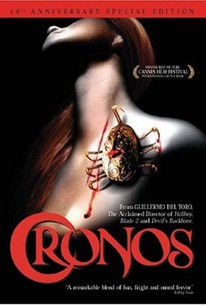 Movie Info
This surreal variant on the classic vampire tale is the directorial debut of Mexican filmmaker Guillermo del Toro, who garnered international acclaim and several awards. The film tells the story of elderly antique dealer Jesus Gris (Federico Luppi, in a role originally written for Max Von Sydow) who, with his eight-year-old granddaughter Aurora (Tamara Shanath), discovers an ancient artifact secreted within a statue obtained from the estate of a 16th-century alchemist. Unbeknownst to Gris, the device -- which resembles an ornate, gilded mechanical beetle -- houses an immortal parasite which will grant eternal life to its host. Naturally, there is a terrible price for this gift, which Gris is doomed to discover after the object anchors itself to his body. He begins to develop an extreme aversion to daylight, as well as an agonizing thirst for human blood. To compound matters, dying millionaire Dieter de la Guardia (Claudio Brook) has learned of the device's existence -- thanks to an occult tome obtained from its inventor -- and wishes to obtain it for his own use. To this end he employs his vain, brutish nephew Angel (Ron Perlman) to retrieve it for him. Angel's techniques are less than subtle, and he inevitably winds up killing Gris in his futile search for the artifact... but death is not permanent for the host of the Cronos, and he rises from the mortuary slab to reunite with the long-suffering Aurora. Together they confront de la Guardia and his nephew one last time, hoping to find a way to reverse the horrible process before Gris suffers the same monstrous fate as the device's creator. ~ Cavett Binion, Rovi
News & Interviews for Cronos
Critic Reviews for Cronos
Audience Reviews for Cronos
½
Terrific vampire film, Cronos is a horrifying take on the genre, one that director Guillermo del Toro takes on with great confidence. This is a terrifying horror film one that has a tense, eerie atmosphere, which adds to the disturbing aspect of the film. With that being said, it only adds to the terror of the film, and you have a sense of fear throughout. The story is engaging and well thought out. The film will surely please genre fans, and del Toro crafts one of the most memorable vampire films of the 90's. If you want a more traditional vampire film to watch, Cronos more than delivers. This is a thrilling horror film, one that is chilling from start to finish. Cronos is the type of vampire film that adds to the consistency of quality vampire films. Cronos is a fine picture from del Toro, and he makes a terrific feature that continues the tradition of terrifying, memorable vampire films. del Toro has always had a great imagination when it came to making great horror films, and Cronos is proof of that. With a great story, good cast and intense chills. Cronos is a memorable horror film that is a must watch for genre fans. del Toro has delivered a stunning work that makes for a memorable horror film going experience. Cronos has plenty of atmosphere to create its memorable chills. If you love a good vampire flick, Cronos is yet another stunning picture that relies on a great story, and powerful visuals to make for a great film.
Graham Jones
Super Reviewer
½
For his directorial debut, then 28 year-old Guillermo del Toro opted for a surreal, darkly comedic take on the vampire myth. Not only did this cement del Toro as a director to watch, and serve as a great stand alone piece of work, it also set forth many of the elements that would become his trademarks, namely great use of symbolism (often religious in nature), motifs involving machinery/gears and insects, expressive use of lighting (interplay between light and dark), and a tendency towards the gothic, among other things. The plot revolves around a kind old antiques dealer whose relationship with his much younger wife is on the downward slope. He has a much better rapport with his granddaughter, which really doesn't set well with grandmother. One day our protagonist happens upon a mysterious scarab like device which attacks him, and essentially turns him into a vampire of sorts. It'll make more sense when you see it. Anyways, on top of that, this crude American thug comes around looking for the device, as it is sought by his equally trashy industrialist uncle. This all leads to a big mix of the quest for immortality a la the Last Crusade et al with a unique riff on the vampire mythos. This is a really terrific film. It's surprising how polished and realized this is, especially for a feature debut. It's a bit more darkly humorous than I was first expecting, but that's fine. It's still plenty dark and twisted, and the humor actually works fairly well. We get some great performances, interesting characters and situations, and some really neat ideas and cool special effects. Things kinda feel la little rushed towards the end, like it begins to run out of steam and they weren't totally sure how to end it, but even then, the film is still quite enjoyable and good. Federico Luppi is quite good as the protagonist Jesus Gris, but for me, the real highlight was seeing Ron Perlman as the crude American thug Angel de la Guardia. This was the first of many collaborations between him and Guillermo, and he's a real scene stealing delight here, and makes for a memorable antagonist. Besides some good performances there's also some really good music, a great look, and excellent cinematography. I highly recommend this, for del Toro fans, horror comedy fans, and people who appreciate quasi artsy but not totally pretentious stuff. Heck, if you dig off beat stuff, this will satisfy, and of course, it works well for those who like things related to vampirism. I highly recommend the Criterion edition, as the booklet for it has some splendid essays and supplemental material, most notably some of del Toro's original notes for the movie and character bios. Definitely check this out, it's quite a treat.
Chris Weber
Super Reviewer
Cronos Quotes
There are no approved quotes yet for this movie.
Discussion Forum
Discuss Cronos on our Movie forum!